Facebook Stream of Terrorist Attack Rattles Investors, Lynx Says
(Bloomberg) -- A live stream of a terrorist attack is adding to investor concerns as more bad news surrounds Facebook Inc.
"Hedge funds who were previously complacent about the recent negative headlines are raising eyebrows on the news overnight," Lynx Equity Strategies analyst, Jahanara Nissar, wrote in a note. Facebook fell as much as 4.5 percent for its biggest decline since December.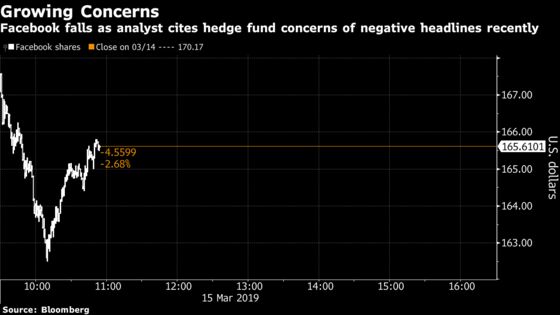 A Facebook live stream of a terrorist attack that claimed the lives of forty-nine people in New Zealand thrust the company once again into the spotlight Friday. While its becoming expensive to surveil the social media platform and its assets, "critics say Facebook has to be more proactive on monitoring its platform," Nissar said in response to questions.
Separately, additional feedback from investors showed Lynx Equity that the recent departures of top management officials "is concerning -- especially given that the conflict was over strategy." Chris Cox, who had led Facebook as chief product officer, is the highest-ranking leader to depart since the company became enmeshed in crisis last year.
Chris Daniels is also leaving Facebook. He took charge of the WhatsApp messaging service after the founders' exited in 2018.
Lynx Equity also highlighted that Facebook is a well-owned stock with a cohort of bulls defending it, holding "the opinion that negative headlines are not likely to move the stock meaningfully." The firm expects the stock to be range-bound for the next month, and "after that it comes down to what happens on the earnings print," Nissar said.