Facebook Options Show Half the Volatility of Second Quarter
(Bloomberg) -- Facebook Inc. options are pricing in a potential move of about 9.5 percent after it reports third-quarter earnings Tuesday afternoon, suggesting that traders don't expect a repeat of last quarter's historic plunge.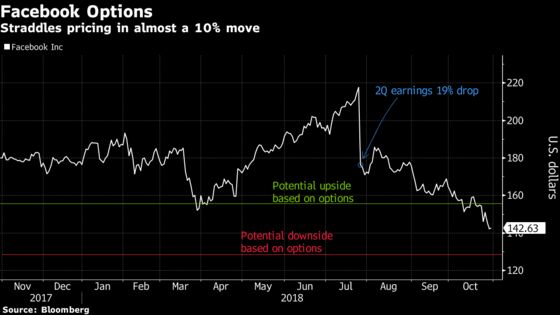 Over the last eight quarterly reports, shares have moved on average 5.6 percent, led by last quarter's 19 percent drop.
Options expiring on November 2 only make up 5 percent of current open interest, according to Bloomberg data, but calls are outweighing puts by about 1.8x to one, which, on the surface could indicate options investors are setting up for a rally in shares.
Implied volatility is elevated at about 123 versus a 90-day historical average of 45 but with the last two quarterly reports moving shares 19 percent and 9 percent, that elevated volatility seems about right.