U.S. Tech Rout Is Good News for European Stocks, Says Templeton
(Bloomberg) -- Investors are getting tired of red-hot U.S. technology stocks, and that's good news for European equities, according to Franklin Templeton Investments.
After trailing for most of 2018, global value stocks beat growth shares in July by the most in 10 months, as traders fled the likes of Facebook Inc., Twitter Inc. and Netflix Inc. following disappointing earnings. As a result, the Stoxx Europe 600 -- a third of which is made up of banking, energy, health care and utilities' stocks -- enjoyed a 3.1 percent rally.
"I'm a long-term value investor. In this cycle, when inflation is rising and bond yields are rising, the companies I invest in tend to do well," Dylan Ball, head of European equity strategies at Franklin Templeton Investments, said in a London interview. "If the correction in U.S. tech stocks takes U.S. equities lower, European equities as a value play will be resilient to the drop."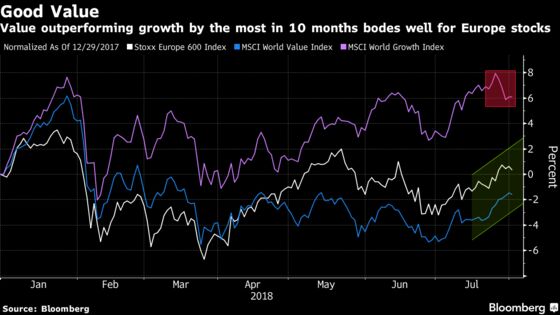 Investors and analysts have been trying to guess the timing of the next big stock market correction, with Morgan Stanley warning this week that the U.S. equity selloff is just starting and that growth stocks-focused portfolios could especially get hurt. Lori Calvasina, RBC's head of U.S. equity strategy who downgraded the tech sector to underweight in April, wrote in a note on Wednesday that there's now even more reasons to sell, citing frothy valuation levels and deteriorating investor sentiment.
The Nasdaq 100 Index lost 4.2 percent over three sessions through Monday after results from Facebook and Twitter disappointed. Meanwhile, the Stoxx Europe 600 added 1 percent over the same period.
The MSCI World Value Index surged 3.6 percent in July, led by health-care and financial shares, which were also the top performers on the European market. Templeton has an overweight stance in European banks and energy shares, and is staying away from tech and consumer sectors, Ball said.
The global economy is now closer to the end of its growth cycle, although a recession is still a few years away, the fund manager said, adding that during such period, European equities tend to outperform as popular stocks run out of steam.
"The point is that there is money to be made before we hit another recession," Ball said. "And we think Europe is the place to do that."