Extension Brings 21-Hour Futures Trading to Frankfurt This Month
(Bloomberg) -- Futures trading at derivatives exchange Eurex Frankfurt AG will soon be extended by seven hours daily to offer a 21-hour dealing window, as it moves closer to the session length provided by the S&P 500 Futures platform.
From Dec. 10, continuous trading for selected futures will start at 8:00 a.m. in Singapore time and run almost the whole day to the U.S. close. The measure aims to cater to increasing demand from clients with global business models, Eurex said earlier this year.
"Market participants told us that 21 hours is a reasonable time window," a spokeswomen for Deutsche Boerse AG, the parent company of Eurex, said by phone. "We will start trading with the cash market open in Tokyo, and close with the U.S. cash market. There is scant demand for the three hours between."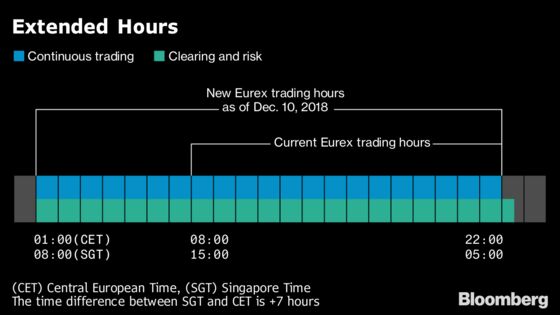 For now, extended trading will apply to the most liquid equity and fixed-income futures, such as the Euro Stoxx 50, DAX and Mini DAX Futures as well as the rates derivatives Schatz, Bobl, Bund and Buxl Futures.
"It will allow for more direct hedging activity to take place on the European markets before they are actually open and this can only be a good thing for smooth market conditions," Nick Twidale, chief operating officer at Rakuten Securities Australia said. "It's a good move on Eurex's part, both from a market continuity point of view and from a commercial one."
The move brings Eurex closer to the 23-hour trading provided by the S&P 500 Futures exchange. But the decision may have a limited impact on earnings, according to M.M. Warburg analyst Andreas Plaesier. He estimates that a 10 percent increase in futures trading may cause 1.6 percent growth in Deutsche Boerse revenue. "Overall certainly a positive thing, but nothing I would build my growth case on," he said by email.
Eurex said it will ensure market integrity with volatility interruptions to avoid fluctuations during the more illiquid times of the day. However, some investors anticipate potential problems.
"This extension may increase price distortions," Deka Investment GmbH portfolio manager Uwe Maderer said by phone. "We observe already random and erratic price moves in Bund Futures past 7:00 p.m. European time, when liquidity is getting thinner."