Former JPMorgan, Bradesco Executives to Start Brazil Quant Fund
(Bloomberg) -- They got to know each other in the early 2000s, competing for clients while working for different U.S. banks. Now they're joining forces to create a new quantitative fund in Brazil.
Renato Naigeborin, the former head of equity-trading strategies at Banco Bradesco SA, and Jayme Fernandez, previously JPMorgan Chase & Co.'s head of Latin America equity trading, plan to start raising money in the first quarter, mostly among local family offices and private-banking companies. They've developed eight customized models using mathematical and statistical tools to create software programs to pick investments.
"The initial idea for each strategy comes from our market experience," Naigeborin, 48, said in an interview in Sao Paulo. The plan is to raise about 250 million reais ($67 million) from clients in the first year, Fernandez and Naigeborin said.
The fund's name, EnterCapital, pays homage to Benjamin Graham, who defined the enterprising investor in his 1949 book "The Intelligent Investor." For Graham, a mentor of Warren Buffett, what differentiates defensive investors from enterprising ones is the willingness to put in the time and discipline needed to invest more aggressively, including constant attention and monitoring.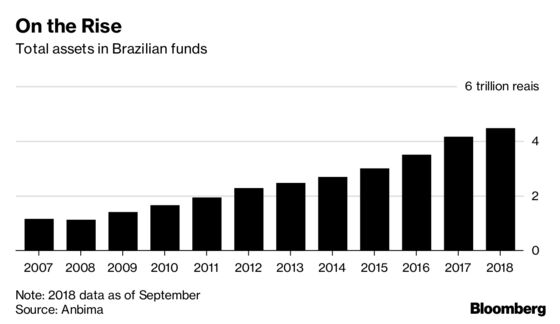 Initially, the fund will trade equities, equity indexes and futures, and futures for currencies and interest rates in Brazilian markets, but as it grows it may have to move to markets in other nations in search of liquidity, Fernandez, 43, said.
"We are already testing, and our models work pretty well in markets from many different nations, and not only in Latin America," Fernandez said. Investments will be medium to long-term, because "the models show their strength" in a period from 12 to 24 months, he said.
So-called "quants" use a wide array of approaches, from taking advantage of arbitrage opportunities in stock markets to surfing trends in currency prices. But they all use powerful computers and complex algorithms to implement automated trading strategies.
At first, the fund will only engage in low-frequency quantitative trading, but might enter the high-frequency arena in the future.
"I am going back to do something I like the most, which is to work with pure mathematics," said Naigeborin, a math Olympics champion as a child who has a degree in aviation mechanical engineering from the Technological Institute of Aeronautics in Sao Jose dos Campos city, in Sao Paulo state.
Naigeborin left Bradesco in May to start developing the fund. He ended up working at Bradesco after it acquired HSBC Holdings Plc's local unit, where he was head of equity trading for Latin America. While at Bradesco, he helped create from scratch an equity-derivatives trading desk, as he did at Citigroup Inc.'s Brazil operation from 2006 through 2010. Naigeborin also helped found investment-banking boutique BR Partners in 2009 and built an equity business there.
He got to know Fernandez before that, when he was at Merrill Lynch & Co. and Fernandez was head of equity-derivatives trading at JPMorgan.
"We interacted a lot, had meetings to discuss markets and strategies, and participated in meetings on the stock exchange," Naigeborin said.
"We were competitors, but with a cordial relationship," said Fernandez, who left JPMorgan, where he worked for 15 years, in 2015 and has been managing his own proprietary fund ever since.
Quantitative funds represent less than 1 percent of Brazil's total fund industry of about 4.5 trillion reais, Fernandez estimated. The fund industry had net inflows of 71.7 billion reais this year through September, according to Anbima, the nation's capital-markets association.