Ex-Fed Economist Says Pension Giant Should Buy More Junk Bonds
(Bloomberg) -- A former senior economist at the Federal Reserve suggests that the world's largest pension fund should step out of its comfort zone.
Yoshio Nozawa, who researched corporate bond spreads for the Fed over the past five years, said Japan's Government Pension Investment Fund and its peers should buy more high-yield bonds and alternative assets such as real estate. The pension fund's long-term performance of its 158.6 trillion yen ($1.43 trillion) in assets is more important than quarterly results, he said.
"Investors that can own assets for a long period have a high risk tolerance," Nozawa, 39, said in an interview in Tokyo after receiving a GPIF award for corporate bond research in July. "Pension funds have the advantage of being able to hold low-liquidity products that other investors usually shy away from, so there's room for them to consider investing in more of those assets."
The GPIF revised investment guidelines earlier this year to include the buying of Japanese debt rated below BBB, or junk bonds, under certain conditions. As of March-end, it allocated about 415 billion yen to actively managed foreign high-yield bond funds run by firms such as Nomura Asset Management, MacKay Shields and UBS Asset Management.
Alternative investments made up 0.17 percent of the GPIF's total assets, below its self-imposed limit of 5 percent, as of the end of June.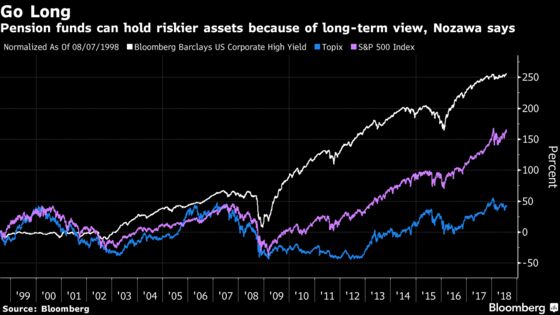 The key to analyzing corporate bonds is understanding the composition of their spread, which is affected by the expected default loss and risk premium, according to Nozawa, who currently teaches finance at the Hong Kong University of Science and Technology. If the risk premium is driving the spread, then it may indicate that it's time to buy the debt rather than sell, he said. This also applies to stocks and other assets, he added.
Japanese investors such as pension funds and life insurers tend to invest in investment-grade bonds. Corporate debt issuance was about 11 trillion yen in 2017, with more than 95 percent of the securities rated A or higher, according to a report by Nomura Institute of Capital Markets Research.
Ayako Sera, a strategist at Sumitomo Mitsui Trust Bank Ltd. in Tokyo, said the GPIF has little choice but to diversify into alternative assets and high-yield bonds if it wants higher returns. Japan's bonds, which make up about 27 percent of the GPIF's assets, have low yields as the Bank of Japan maintains its unprecedented monetary easing.
"The GPIF's biggest problem is it can't keep taking in domestic bonds -- especially government bonds -- as a staple with Japanese interest rates so low," Sera said. "The fund needs to sample a wider variety of dishes."