Ex-Facebook CFO's Lost Loan Fueled Suburban Ponzi Plotter's Scam
(Bloomberg) -- From the day Michael Scronic was arrested in a well-to-do New York City suburb for scamming friends and family out of $22 million, it's been a mystery why he'd betray them like that.
Prosecutors this month offered one reason: Scronic was too ashamed to admit his failure as a trader to Gideon Yu, a longtime friend from Stanford University who went on to become the chief financial officer of YouTube and Facebook Inc. and is now a part owner of the San Francisco 49ers.
That was "the spark for this current mess I have caused," Scronic wrote in a note to friends in February, which was included in a court filing. We "were super-close friends all while being fiercely competitive."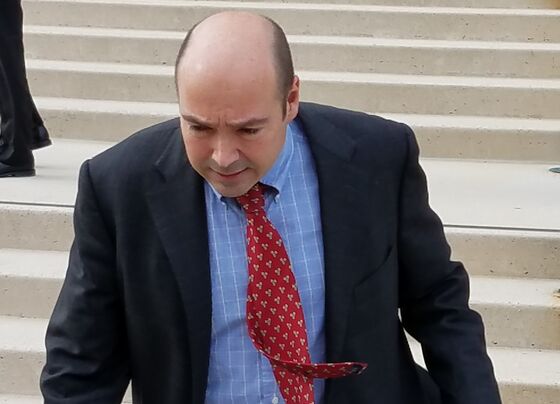 Scronic is scheduled to be sentenced Thursday for a scam that duped 46 people. It marks the downfall of a man who cheated even his mother while living lavishly on a 10-acre estate he rented in Pound Ridge, New York, about 47 miles (75 kilometers) northeast of Manhattan. Many of his victims are financial professionals and, according to two of them, too embarrassed that they were snookered to be identified publicly.
Prosecutors say Scronic deserves 10 to 12 years in prison, while he says he should get no more than three years, claiming a longtime gambling compulsion that drove him from one bad trade to another. No matter the sentence, it's doubtful Scronic will ever be able to fully repay the investors who believed they were earning double-digit returns in the Scronic Macro Fund.
"I still can't reconcile the Mike I know as my good friend with the Mike who stole from me, and it has been devastating," prosecutors cited an investor identified only by initials as saying. "I received a text message from him on Oct. 4, 2017, the day before he was arrested, talking about market moves and how well the fund was going to do as a result. Lies!"
A friend of 20 years was quoted by prosecutors as saying: "I cannot grasp how a human, let alone a dear friend, can do this to another being."
Scronic ran his fraud for seven years through a fund that was "really nothing more than a name," he said in court papers. He told investors he made money in almost all quarters, but actually lost their investments on risky, short-term options trades. Still, Scronic took more than $500,000 a year for his own expenses. He pleaded guilty to securities fraud in March.
His mother lost $50,000. Yu, who is identified in court papers as "G.Y.," lost $3.5 million. Yu's lawyer, Stephen Hibbard, declined to comment; a person familiar with the case confirmed Yu's identity.
"He lied about the performance of the fund because it was difficult to tell G.Y. the truth due to their close friendship," prosecutors said in a Sept. 11 court filing.
Yu and Scronic were roommates in Roble Hall beginning in their freshman year at Stanford in 1989, according to two people who lived on the floor. They came from families where there was intense pressure to succeed academically, and both felt out of place when they arrived that fall. Scronic was raised in a middle-class family near Pound Ridge, while Yu, who was born in South Korea, had been targeted by racial epithets while growing up in Nashville, according to court records and a speech Yu gave years later.
The two thrived in college, and Scronic earned admission to the University of Chicago's business school while Yu headed to Harvard. In 1998, Scronic took a job at Morgan Stanley, winning promotions and pay raises, while Yu eventually became CFO at YouTube. In 2006, Yu engineered the company's $1.6 billion dollar sale to Google. He became Facebook's finance chief the next year, negotiating key investments from Microsoft and others.
By then, Scronic had suffered a devastating career setback. In 2005, he was forced out of Morgan Stanley after losing $3 million on proprietary trades, he said in a court filing. He spiraled into depression and was hospitalized.
All along, Scronic had gone out of his way to maintain personal relationships, and those friendships later provided a base of potential investors. Beginning in 2010, prosecutors said, he approached friends to invest in a fund. Yu declined, but agreed to loan his friend $3.5 million, according to prosecutors. Scronic never repaid him.
In the February note, Scronic said his relationship with Yu was why he couldn't come clean about the trading losses. He said he "had too much pride" to admit he'd been unsuccessful. No one lost more money than Yu.
Yet Scronic maintained the outward trappings of success in a leafy town of 5,104, where the median household income in 2010 was $188,464. He paid $12,275 a month for rent on a five-bedroom house that included a pool and tennis court, and he used investor money to pay his mortgage on a Vermont vacation house, fees for his beach and country clubs, and credit card bills, according to the government.
In Scronic's filing, his lawyer says he has a "moderate to severe" gambling disorder and is working hard on recovery. Scronic asked for a reduced sentence so he can spend time with his 6-year-old son.
When FBI agents knocked on Scronic's door last year, he said he'd been expecting them and he confessed in detail. But even then, Scronic thought he could rely on his relationships to save him, just one more time.
"He wondered," the agents wrote in an internal memo, "if he were able to call the investors and get them to not press charges, would his current situation change?"