Ex-BofA Trader Is on a Hiring Spree for a New Quant Fund in Korea
After working as a high-frequency trader for six years in New York, Kwon Yong-jin returned to his home country South Korea, sensing opportunity in a place where quantitative investing is in its early stages.
The former trader at Bank of America Merrill Lynch and Tower Research Capital LLC, the high-frequency trading giant founded by Mark Gorton two decades ago, has started his own quant trading firm in Seoul focusing on overseas assets and cryptocurrencies despite rising global suspicion about such strategies. Kwon has hired seven employees so far and says he's looking for more.
"I don't say quant investing is better than humans investing," Kwon, chief executive officer at Blue Financial Group, said in an interview at his office in Seoul. "The highest quality will always come from humans. Still, the factory-made products are cheaper and can be provided to ordinary people."
Blue Financial is backed by B-Brick, a venture capital firm where Kwon also works as chief strategy officer. Blue Financial trades an average of about $100 million a day, mainly in foreign currencies, U.S. stocks and crypto.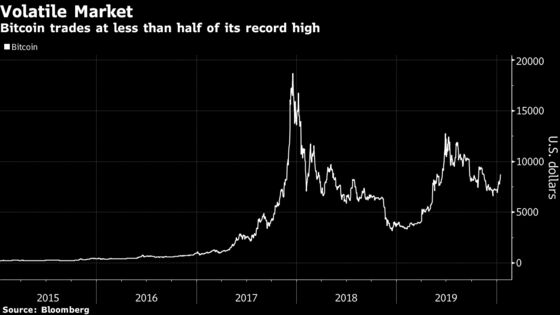 Kwon likes employing a "lead-lag strategy" that catches information-driven trades in different regions, like various European currencies that react differently to a Brexit development. But one place he isn't looking to invest: Korean stocks. In his home market, he sees too many inefficiencies that may not be resolved soon, so he doesn't think he can make a profit with quant trading there.
There are growing doubts globally over various quant strategies that have been grappling with underperformance and competition from cheap exchange-traded products. A Eurekahedge index tracking those using artificial intelligence and machine learning has returned 9.8% in the past three years through December, compared with 13% gains for hedge funds overall.
Kwon, who studied computer science and applied mathematics at Carnegie Mellon University in Pittsburgh, Pennsylvania, says South Korea is still in the early stages of development in terms of a quant-investing industry. And he's prepared to capitalize on disparities between more mature markets.
"For me, the biggest advantage to run a quant firm here in Seoul is quant developers and data scientists are so undervalued," Kwon said. "The average salary to pay for them is almost a third, or even a quarter of that for applicants in New York, while I think the only thing they are lacking is they can't speak English."