Ex-Barclays Tax Trader Mannan Emerges at Hedge Fund Autonomy
(Bloomberg) -- Sadat Mannan, who led a desk at Barclays Plc that made hundreds of millions of dollars from tax-avoiding transactions before leaving last year, has found a new booming market at hedge fund Autonomy Capital Research LLP.
Mannan, 41, helps lead the fund's trading in derivatives linked to carbon, where prices have soared in Europe this year, according to people familiar with the matter. He quietly joined the firm last year and also serves as treasurer, reporting to Chief Investment Officer Robert Gibbins and Chief Executive Officer Ivan Ritossa, the people said. Jonathan Gasthalter, an external spokesman, declined to comment.
The move is a departure for London-based Mannan, who was renowned at Barclays for arranging controversial but lucrative stock trades that sidestepped taxes on dividends. In his dual role at Autonomy, he has to navigate a hedge-fund industry that's adjusting after the collapse of Archegos Capital Management earlier this year. He's also trying to profit from carbon markets, a key tool for governments to help shift their economies away from fossil fuels.
Neither of Mannan's roles will involve trying to profit from tax loopholes, according to people familiar with the matter, who asked not to be named discussing non-public information. He declined to comment.
Autonomy is otherwise focused on making bets on emerging markets. The firm's global macro fund, which seeks to profit from macroeconomic trends, has tumbled 17% so far this year after wagers on the Turkish lira backfired, according to a person briefed on the matter. That compares with a 7% gain for the Bloomberg Macro Hedge Fund Index. The firm's assets under management have shrunk from $3.7 billion in February to about $3 billion, with redemptions driving the decline, another person said.
Mannan, a two-decade veteran at Barclays, left the British bank during a round of job cuts last year. He worked at the Structured Capital Markets unit, which engaged in what a U.K. lawmaker once described as "industrial-scale tax avoidance" before it was closed in 2013. He later oversaw a business called Delta-1 Strategic, which also focused on tax and was one of the bank's most profitable trading desks, Bloomberg reported in 2019.
As Autonomy's treasurer, Mannan helps manage the fund's relationships with prime brokers -- the divisions of Wall Street banks that lend cash and securities to hedge funds. The rapid implosion of Archegos in March, which inflicted billions of dollars of losses on lenders including Credit Suisse Group AG and Nomura Holdings Inc., has prompted a wave of scrutiny of these relationships.
Mannan also works closely with founder Gibbins, who began betting on European carbon in 2017. The market, created by the European Union in the 2000s to make it more expensive to pollute, involves wagering on the value of carbon permits that industrial and power companies must buy to account for their emissions.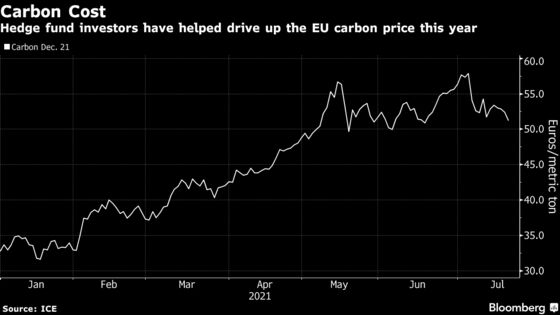 Derivatives linked to EU permits have surged almost 60% this year as investors anticipated that the bloc will use the market -- the world's biggest "cap-and-trade" system -- to help deliver its goal to be carbon neutral by 2050. The rapid gain in prices has been accelerated by a rush of financial speculators who see the market as a one-way bet tied to the EU's climate ambition.
Gibbins has downplayed the most bullish expectations of some market participants in Europe, but said in a recent research paper he saw an opportunity in California's carbon permits.