Barclays' Deal With Sheikh Makes Me Sick, Banker Said
(Bloomberg) -- A group of senior Barclays Plc executives agonized over adding a Qatari royal to a bailout of the bank during the 2008 financial crisis, but it wasn't enough to kill the deal.
The bankers, now facing fraud charges in a London court, were responsible for finding a multi-billion pound lifeline from Qatar to stave off nationalization by the U.K. However, the country's prime minister, Sheikh Hamad bin Jassim al-Thani, intended to invest personally in exchange for a commission structured as an advisory fee.
"It's like having the president of the United States advise JP Morgan; you just can't have it," Roger Jenkins, Barclays' former Middle Eastern investment banking chief, said of the secret deal that's ended up in a London court.
"It's a bit dodgy," banker Richard Boath agreed.
"It's his money. He wants his fee," Jenkins replied. The deal, which called for a higher commission than other investors were getting, would need to be restructured, the bankers agreed.
The comments were read during the trial of Boath, Jenkins and Tom Kalaris, who formerly headed the bank's wealth division, in the most high-profile British case against senior bankers dating from the 2008 crisis. All three men have pleaded not guilty while former Chief Executive Officer John Varley was acquitted of similar charges in June.
Varley's former lieutenants, desperate to prevent nationalization by the British government, created a false and "misleading" audit trail to hide the fees they were set to pay to various Qatari investment units, prosecutors at the Serious Fraud Office said. At the same time, they were faced with demands from the Qataris themselves that the deal with the sheikh be kept out of the public eye.
Following a meeting at London's Hyde Park Hotel with a Qatari lawyer about the additional payments to Sheikh Hamad, Boath recorded that they'd agreed "to keep it secret between us for now." He wrote: "How does he get the extra fee? Same mechanism!"
After lengthy discussions in June 2008, Sheikh Hamad agreed to declare his interest in the Challenger investment vehicle, but Varley's willingness to allow him to be paid the commission still amazed Jenkins, the point man on dealing with the Qataris.
"I'm very surprised John Varley, given his ethics, is doing this," he said.
On the fourth day of argument in the trial, prosecutors highlighted how aware the bankers were of the appearance of impropriety. As a lawyer reeled off a list of criminal agencies and regulators, Boath riposted.
"I am already feeling sick. There's no need to use all those words to make me feel sicker."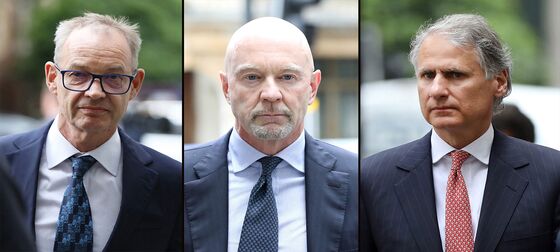 As Barclays hesitated about the fees, Jenkins grew impatient, telling Boath in a note that other executives should overcome their concern that regulators may block the deal.
"Stop messing around you stupid people," Jenkins said in a phone call with Boath, which was played to the jury. "We want their money so take the f--king risk. Just put it in the prospectus, let's just move on for f--k's sake."