Every Day Like Clockwork, $200 Million Flows Into One Growth ETF
(Bloomberg) -- Less than a month ago, the Nuveen Growth Opportunities ETF had hardly any assets. Now it's got a massive $2.7 billion -- and the gush of money has a weirdly repetitive rhythm to it. 
For 13 out of 18 trading days, at about the 4 p.m. close in New York, someone has poured roughly $200 million into the exchange-traded fund. Among the industry pros who follow the money on Wall Street, it's spurring speculation on just who is behind it. 
Most ETFs either launch "pre-seeded" -- cash already lined up that is invested in its first day or two -- or gather assets organically in the weeks that follow. 
Nuveen's fund, ticker NUGO, fits neither mold, suggesting a big investor is drip-feeding in cash, according to Bloomberg Intelligence. The ETF targets long-term capital appreciation in companies with a market cap above $1 billion.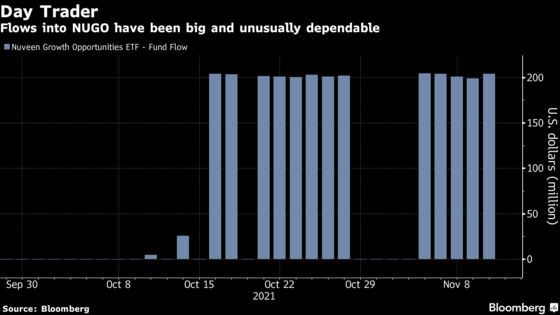 "It's likely Nuveen lined up one investor who wanted to come in chunks as opposed to one time," said Eric Balchunas, senior ETF analyst at BI. "Flow charts that look unified like this tend to be one institution or internal assets. But it's highly rare to see it come in in perfect increments for days on end."
It's unclear why an investor would spread out allocations like this, or how long it will continue. An emailed request for comment to Nuveen Investments wasn't immediately answered on Thursday.
While the amounts are modest in the scheme of the $7.1 trillion U.S. ETF market, it's big money for a young fund. NUGO launched only in late-September. The cash is also a vote of confidence for funds with hidden strategies -- a relatively new area for the industry. 
"NUGO has single handedly tripled the assets in the active non-transparent category," said Balchunas.