Evergrande Chairman Summoned After Firm Flags Restructuring
(Bloomberg) -- China Evergrande Group Chairman Hui Ka Yan was summoned by the Guangdong government after the troubled property developer said it plans to work with creditors on a restructuring plan for its offshore debt.
Provincial authorities will send a working group to urge the company to manage risks, as well as strengthen internal controls and management and ensure normal operations, according to a statement on the government's website.
The development late Friday in Asia came after the developer said in a filing to the Hong Kong stock exchange that there's "no guarantee that the group will have sufficient funds to continue to perform its financial obligations." Evergrande had received a demand to perform its obligations under a guarantee in the amount of approximately $260 million, it also said.
Dollar bonds
Coupon due date
Grace period ends

Amount 

(million dollars)

TIANHL 13% due 2022
Nov. 6
Dec. 6
41.93
TIANHL 13.75% due 2023
Nov. 6
Dec. 6
40.56
EVERRE 7.5% due 2023
Dec. 28
Jan. 27 
50.43
EVERRE 8.75% due 2025
Dec. 28
Jan. 27 
204.77
The provincial government said it's "highly concerned" about Evergrande's stock exchange filing. China's central bank voiced support for Guangdong's plan to send a working group, saying it would keep working with local authorities to defuse risks.
Read more on Chinese authorities' response
The People's Bank of China also reiterated that risks posed to the economy by Evergrande's debt crisis can be contained. It cited the developer's "own poor management" and "reckless expansion" for the risks it faces. 
Evergrande is struggling to raise cash to meet its more than $300 billion in liabilities, fueling concerns it's heading for a default that could hurt the world's second-largest economy. Other developers including Kaisa Group Holdings Ltd. are in a similar situation following a regulatory crackdown on excessive borrowing and a slump in home sales and prices. 
To avoid the crisis from cascading, the working group will need to coordinate payments to avoid a "supplier run" similar to a bank run, since more than two dozen Chinese listed companies list Evergrande as one of its top customers, said Alex Yang, associate professor of operations management and finance at London Business School. 
The China Banking and Insurance Regulatory Commission said in a separate statement that loans for real estate development and acquisitions should be issued in a "reasonable" manner. 
Evergrande said if it's unable to meet its guarantee obligations or certain other financial commitments, it may lead to creditors demanding acceleration of repayment.
Li Gan, professor of economics at Texas A&M University, said the latest development signals that Hui's attempts to sell personal assets to help pay down his debts may not be enough to ease the crisis. 
Hui, who's worth $6.8 billion, according to the Bloomberg Billionaires Index, cut his stake in Evergrande last week for the first time since it went public in 2009, after Chinese authorities urged him to use his own fortune to shore up his group's finances.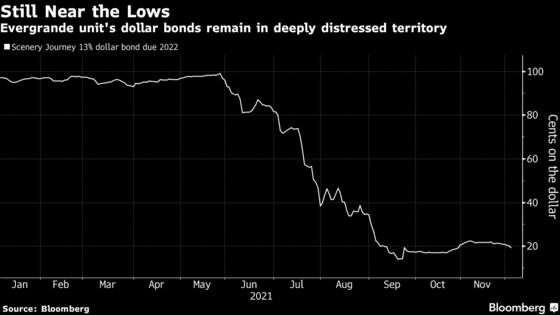 Evergrande has so far managed to avert defaulting on any publicly traded dollar bonds. But its debt trades below 25 cents on the dollar, reflecting a high likelihood of eventual restructuring or missed payment.
Two months ago, creditors didn't receive payment of a dollar bond issued by a joint venture called Jumbo Fortune Enterprises that matured Oct. 3 and was guaranteed by Evergrande. While Evergrande's statement Friday didn't specify that the guarantee it received the demand on was that security, that note was also issued in the amount of $260 million.
On Monday, the developer also faces the end of a 30-day grace period to make payments on two dollar bond interest payments that were initially due Nov. 6: a $41.9 million coupon for a note maturing in 2022 and $40.6 million in interest on a bond due the following year. Both securities were issued by unit Scenery Journey Ltd.
Evergrande has become one of the biggest casualties of Chinese President Xi Jinping's years-long effort to wring the excesses out of the country's debt-laden real estate sector. The question looming over global markets is whether Xi can tackle the problem without derailing the economy's fragile recovery from the pandemic.
Senior Chinese policy makers have tried to reassure investors that risks from Evergrande are contained, even as they signal a reluctance to bail the company out. 
Authorities are laying the groundwork for a debt restructuring, assembling accounting and legal experts to examine the finances of the group, Bloomberg has reported. Evergrande has also hired financial advisers that are known to handle restructuring.