Evergrande's Next Bond Deadline Nears With Contagion Risk Rising
(Bloomberg) -- China Evergrande Group's next bond payment deadline is fast approaching as investors scrutinize the developer for clues on the severity of a cash crunch that's eroding confidence in other highly indebted peers. 
The 30-day grace period on Evergrande's $45.2 million coupon payment that was initially due Sept. 29 is set to end on Friday. The closely-watched deadline comes amid a selloff in Chinese junk bonds that was paced on Thursday by Kaisa Group Holdings Ltd., one of the property sector's largest issuers of dollar debt.
Evergrande surprised some investors last week by paying another overdue coupon at the tail-end of the grace period. The company's dollar notes remain at distressed levels as creditors brace for an eventual debt restructuring that could rank among the largest ever in China.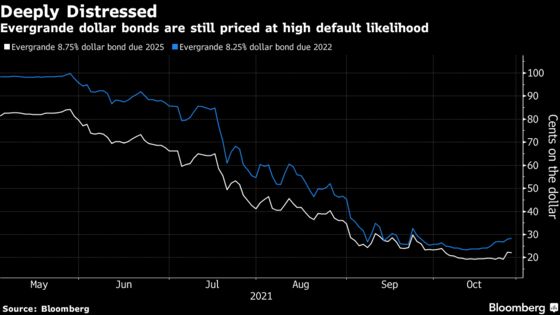 Authorities in Beijing have urged founder Hui Ka Yan to help repay Evergrande's obligations with his personal wealth, but his known fortune represents just a fraction of the company's more than $300 billion in liabilities.
Speculation about a default has been swirling for months, stoking credit-market contagion among other cash-strapped developers and eroding confidence in a Chinese real estate market that by some measures accounts for more than a quarter of the economy.
A payment would buy more time for Evergrande as it tries to raise funds through asset sales. A delinquency could trigger cross-default clauses on the firm's other dollar debt and allow creditors to act to protect their interests. 
It may also make it harder for Evergrande to free up cash by selling assets. Companies in default are typically required to get approval from creditors on future asset sales. Bondholders may choose to file a bankruptcy petition, for instance. 
Dollar bonds 
Coupon due date

Amount

(million dollars)

EVERRE 9.5% due 2024
Sept. 29
45.17
EVERRE 9.5% due 2022
Oct. 11
68.88
EVERRE 10% due 2023
Oct. 11
42.5
EVERRE 10.5% due 2024
Oct. 11
36.75
TIANHL 13% due 2022
Nov. 6
41.93
TIANHL 13.75% due 2023
Nov. 6
40.56
EVERRE 7.5% due 2023
Dec. 28
50.43
EVERRE 8.75% due 2025
Dec. 28
204.77
The firm has already hired advisers and Chinese authorities have begun laying the groundwork for a potential restructuring, assembling accounting and legal experts to examine the finances of the group.
Evergrande has a host of upcoming coupon deadlines. It's late on interest payments for at least two other notes and has another four due through the end of the year. Its next major maturity is on a $2 billion dollar bond due March.