Evercore's Profit Model Shows How S&P 500 Could Go as Low as 2,550
(Bloomberg) -- The stock market slump has been relentless and so has been the quest to explain it. To Dennis Debusschere at Evercore ISI, it's all about the math of corporate profits and what investors are willing to pay for them.
As signs of inflation in wages and raw materials build and this year's bumper economic growth cools, it's obvious companies will have a hard time boosting profits next year at anywhere near the pace they are now. Throw in lower valuations as the Federal Reserve tightens, and you have a recipe for stress.
One way or the other, Wall Street's consensus for S&P 500 profits will turn out to be too high, said Debusschere, head of portfolio strategy at Evercore. The firm just lowered its forecast to $170 a share. That compares with the average of about $177 from analyst estimates compiled by Bloomberg.
Should the market return to its long-term median multiple of 15, that would imply a price level of 2,550 for the S&P 500. The benchmark closed around 2,706 Thursday.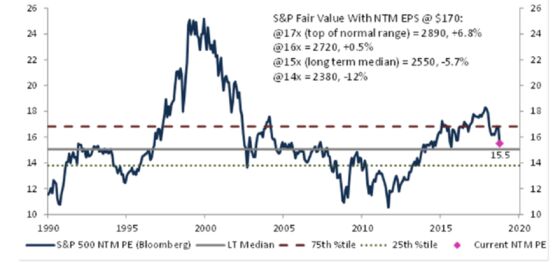 "Modest slowing of economic growth next year and increasing risks to corporate profitability have led to concerns about earnings expectations," Debusschere wrote in a note to clients. "If consensus estimates of earnings growth trend down toward $170 on EPS next year, the risk reward for the market is less compelling."
The strategist is the latest to flag the risk from earnings as Amazon and Alphabet joined a growing list of companies in reporting disappointing results. Earlier this week, Tobias Levkovich at Citigroup said unfounded optimism about earnings is behind the equity slump and markets are likely to remain turbulent as estimates for next year's earnings are recalculated.
Before this year's tax cuts, analyst forecasts proved too optimistic in each of the past five years. Their annual estimates fell an average 3.8 percent from January to December. Should the pattern repeat in 2019, the current profit prediction for $176.60 a share would end up somewhere around $170.00, data compiled by Bloomberg show.