Evercore Clients See Two Fed Hikes and a Higher S&P 500 Next Year
(Bloomberg) -- The S&P 500 Index will perform best among major markets with energy the standout sector, and the Federal Reserve will raise interest rates a below-projected two times in 2019, according to an Evercore ISI survey of clients.
"We surveyed clients about the end of 2018 and 2019 over the past week and a plurality of survey respondents expect the S&P to be the best-performing market," strategist Dennis DeBusschere wrote in a note Tuesday. He said the median expectation for the S&P 500 for the end of next year is a price target of 2,906, and earnings per share of $172. Investors see the gauge rising 2.4 percent from current levels by the end of this year, and 6.1 percent next year.
As for industry groups, "energy and health care were the favorite S&P sectors for next year, while rate sensitive utilities and real estate were ranked most likely to underperform."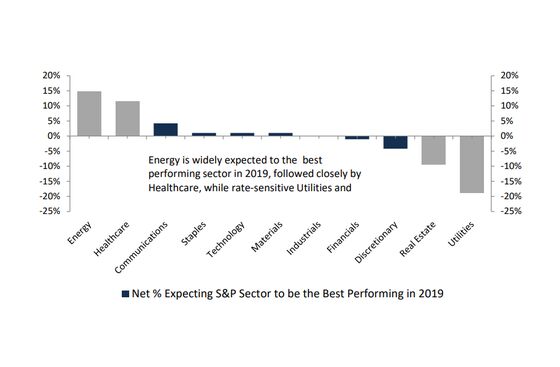 While 31 percent expected the S&P 500 to be the top performer, 29 percent saw emerging markets ex-Asia as the best bet. That compared with 23 percent voting for China, 8 percent Japan and 5 percent seeing Europe's Stoxx 600 as the winner.
About 54 percent of respondents expect the Fed to raise rates twice in 2019, or similar to market-based expectations, the report said. That compared with 24 percent expecting three hikes and 16 percent believing there will be one. A mere 3.1 percent of respondents on each side said there would be four hikes, or zero.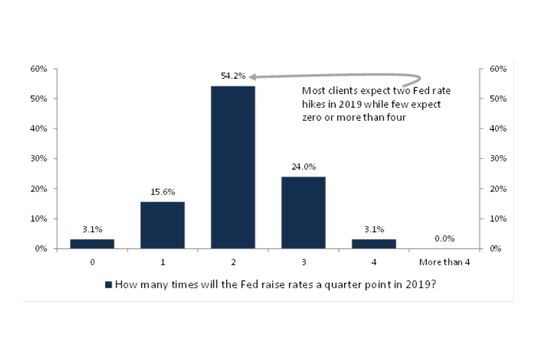 But there was a surprise: "How focused European investors are on the Fed as a potential positive market catalyst. If the Fed slows the pace of tightening, it is likely to happen because the growth outlook has slowed."
"We are in Europe this week and most clients expect a rally into year-end fueled by an easing of trade tensions and some ratcheting down of hawkish Fed comments," DeBusschere wrote.