Even Nostradamus Can't Make a Decent Investment Return This Year
(Bloomberg) -- That even the French seer's investments would struggle to beat U.S. inflation this year is a bad omen for future returns, market observers say.
Not one of the 17 major asset classes tracked by Morgan Stanley has beaten U.S. consumer-price index in 2018, a record going back to at least 2004, the bank's strategy team including Matthew Garman wrote in a note Friday. For the Leuthold Group, its hypothetical single-asset portfolio with "perfect year-ahead foresight" is set for the worst performance ever.
"Remarkably, this theoretically optimal portfolio has also fallen on hard times," Doug Ramsey, Leuthold chief investment officer, wrote in a recent note, after tracking the performance of the best-performing asset each year from a collection of U.S. and global equity and bond indexes. "Unless REITs improve on their current YTD total return of 1.6 percent, the perfect-foresight portfolio will suffer its worst year on record."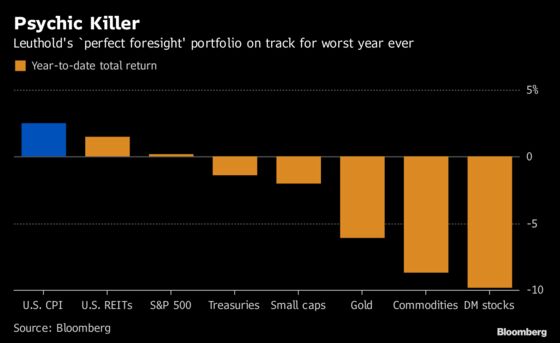 After a strong start to the year, risk assets tumbled around the world on a cocktail of concerns from the U.S.-China trade war to a slowing global economy and the impact of the Federal Reserve's monetary tightening. The S&P 500 Index is down 1.5 percent year-to-date, commodities have slumped almost 9 percent and the Bloomberg Barclays U.S. Treasury Total Return Index has declined 1.4 percent.
For Ramsey, the problems began well before the year began. The five-year annualized total return for his best-case portfolio is 15 percent, the lowest in modern history, he said. This compares with an annualized return of about 34 percent from 1972 to date.
"Considering the reckless monetary experimentation conducted here and around the world in recent years, we'd have expected the perfect-foresight portfolio to have at least hit a home run, if not a grand slam," he wrote. "The failure of even the 'clairvoyant' portfolio manager to score in recent years suggests the long-predicted period of low returns has in fact been underway for some time."