Rebound's Solid But Europe Stocks Still in Worst Month Since '16
(Bloomberg) -- After a brutal October, Wednesday is a rare good day for European shares, as companies' earnings are brightening and even U.S. stocks have rebounded.
The Stoxx Europe 600 Index climbed 2 percent as of 2:38 p.m. in London, the most on a closing basis since April, with every sector but one in the green. The S&P 500 is up 1.7 percent on its second straight day of recovery. Even so, this month European shares are still down the most since January 2016.
But we'll take all the good news we can get on this Halloween. Major earnings headlines were upbeat:
In addition, basic resources were Wednesday's best-performing sector on signs that China's stimulus is helping to boost metal demand despite the ongoing trade war with the U.S.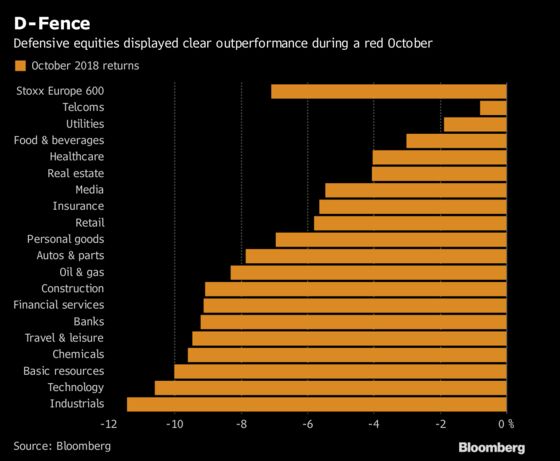 Of course, a day does not a trend make. Profit growth is poised to slow as economic expansion decelerates, and most companies in Europe have seen their earnings estimates downgraded recently, Goldman Sachs Group Inc. strategists wrote in a note Friday. This is the first quarter since late 2014 with more European companies missing earnings estimates than beating them, Morgan Stanley said this week.
On the political front, Italy's populists stuck to their guns, insisting that plans to boost government spending will shield the nation from recession amid a showdown with the EU over budget rules. Meanwhile, who will succeed German Chancellor Angela Merkel at the top of her party remains in question after she said she will step down from the role.
"Merkel announcing she will not run adds a degree of uncertainty, while the Italian government continues to butt heads with the EU," said Benjamin Jones, a senior multi-asset strategist at State Street Global Markets in London. "On the corporate side, European earnings have once again struggled to meet expectations in Q3."
But after a bloody October, investors will welcome any good news they can find. And -- at least this Wednesday -- that's decent earnings, solid economic growth in Spain and rising U.S. stocks.