European Trader Says Market's $1 Trillion Loss Is 'Killing Us'
(Bloomberg) -- The sell-off in European stocks has been so violent that Guillermo Hernandez Sampere, head of trading at the German asset manager MPPM EK, now spends half his working day on the phone with fearful clients.
"So much pain, the market is killing us," he said by phone from Eppstein, Germany. "European equities have lost investor confidence due to Italy, Brexit. Liquidity is the place to be right now."
Although many investors had hoped for a relief rally after a slump in October, developed-market equities continued their sharp descent this month amid concerns ranging from rising Treasury yields to tariff wars. But even after the Nasdaq lost 3.3 percent on Monday because of a rout in technology shares, European stocks are still the bigger victims, erasing more than $1 trillion in market value since the end of September. And here traders also have to worry about the Italian budget as well as British politics.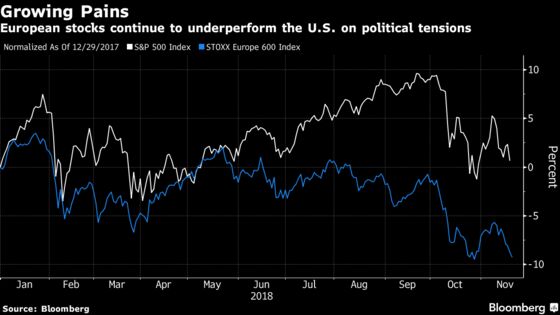 The Stoxx Europe 600 Index is down 2.3 percent in November compared with a drop of 0.8 percent for the S&P 500 Index. European equities have failed to catch up with their U.S. peers this year and the gap just keeps widening.
Hernandez Sampere said it's best to hide from the European equity correction by holding cash, and the fund has increased its cash positioning to the "high single-digits" in November even though it's normally fully invested. Goldman Sachs Group Inc. strategists agree, recommending that mixed-asset investors lift their cash allocations and dial back on risk.
"It's very sad because some shares really look so sexy from a fundamental view," Hernandez Sampere said. "But only a few people give us the money to invest here, the majority of institutional clients redeem."
Other market players struggle to see factors that could spur a rally in European stocks.
"You need a catalyst to trigger buying in European stocks and it's hard to come up with a story investors can believe in," said Ken Adams, head of tactical asset allocation at Aberdeen Standard Investments. "The region has disappointed in terms of growth expectations and the general political backdrop is challenging."