European Virus-Testing Stocks Are Off to a Strong Start in 2021
(Bloomberg) -- European diagnostic companies have had a strong start to 2021, with the resurgence of Covid-19 and the emergence of new virus strains leaving analyst price targets for some testing stocks in the dust.
Eurofins Scientific SE shares have climbed 19%, BioMerieux has risen 13% and Italy's DiaSorin SpA is up 5.7%, extending brisk gains made last year, versus a 2.8% advance for the Stoxx Europe 600 Health Care Index. All three are trading at or above analysts' average price targets, according to data compiled by Bloomberg, as is Tecan Group AG, the Swiss maker of lab equipment.
Comments on positive sales trends from larger companies with testing operations, including Royal Philips NV and Siemens Healthineers AG, have helped drive momentum, while Eurofins' earnings at the end of last month showed strong performance in Covid testing in December and into January. Investors will be looking for further insight into trends in diagnostics when Roche Holding AG reports earnings on Thursday.
"I think you're going to see a another strong year for Covid testing," said Dani Saurymper, a fund manager at Axa Investment Managers U.K. Ltd. "It should be stronger than 2020 because Covid testing really didn't pick up until the second half of 2020."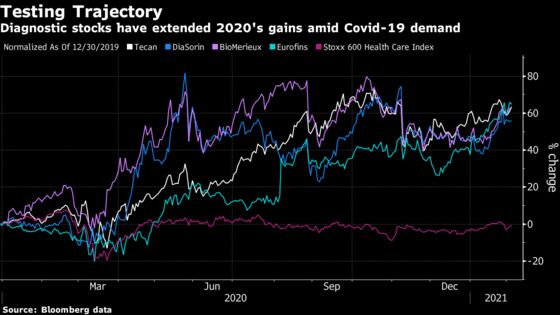 Shares of companies such as BioMerieux and DiaSorin lost some momentum in the fourth quarter last year, as positive vaccine data and subsequent approvals spurred expectations of lower demand for testing. Faster-spreading new strains, however, have contributed to higher case numbers in January, sending the stocks up.
Eurofins now is trading around 82 euros a share versus the average 12-month target of 73.16 euros while DiaSorin is at about 180 euros at a time when analysts see it hitting 169.38 euros in a year.
They may have further upside still, according to Saurymper, in part due to a scarcity of investment opportunities in the sector in Europe. "Consensus may also perhaps be underestimating the strength of growth in 2021," he added. Further ahead, the home testing market may provide new growth opportunities, he said.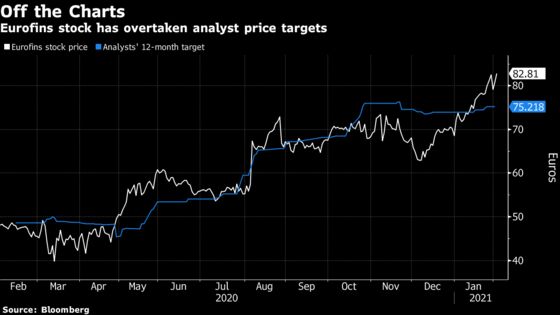 Antigen testing for Covid-19, whether it be at point of care or at home, will help with the recovery of industries such as the travel and leisure sectors, he said. And a rebound in routine testing for other illnesses also would benefit diagnostic stocks in 2021, he added.
Qiagen is due to report fourth quarter results Feb. 10 and BioMerieux is expected to report 2020 earnings on Feb. 24. DiaSorin is due to report on March 11 and Tecan on March 16.