European Equities Decline in 2020's Last Full Trading Session
(Bloomberg) -- European stocks fell in thin trading on Wednesday as investors weighed rising coronavirus cases in the region against further progress in vaccinations.
The Stoxx Europe 600 Index was down 0.3% at the close, led by media and telecom shares, with the volume of dealing in the benchmark at about half the 30-day average. The gauge is down 3.8% for the year.
On the virus front, AstraZeneca Plc and the University of Oxford's Covid-19 vaccine won U.K. clearance, marking the first approval worldwide for a shot that may be key to mass immunizations as cases surge. Meanwhile U.K. Prime Minister Boris Johnson's trade deal with the European Union passed its first vote in Britain's Parliament today, with the agreement on track to become law before the end of the Brexit transition period on Thursday.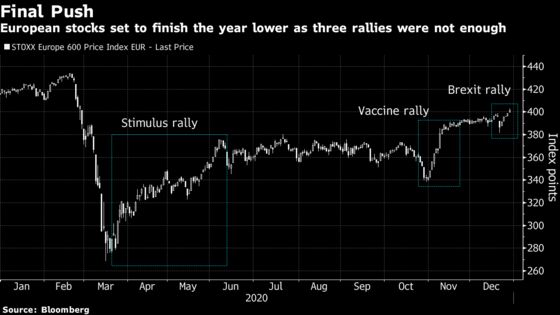 However, Britain's FTSE 100 index slipped 0.7% after the government announced tougher restrictions to curtail the spread of the coronavirus.
Among single stock movers, Pandora A/S led gainers on the Stoxx 600 after the Danish jewelry maker raised its guidance.
Meanwhile, Germany's DAX Index finished a rollercoaster year of trading with a gain of 3.6% for the period, just 10 months after falling as much as 38%.