European Stocks Start 2019 on a Sour Note
(Bloomberg) -- For those that had upbeat financial markets in their new year's wishes, 2019 has kicked off with a rough start.
The first trading day of the year reminded investors worldwide that old anxieties still linger, though the markets delivered some late relief. The benchmark Stoxx Europe 600 Index of equities was 0.1 percent lower as of 4:17 p.m. in London, paring a decline of as much as 1.7 percent earlier as U.S. stocks also recovered some ground.
It's all about growth. China's private manufacturing gauge followed its official one by contracting in December, putting particular pressure on Europe's dependent industries from resources to autos. As for Europe's own purchasing managers' index readings:
Italy stayed in contraction zone for a third straight month as a recession beckoned
France's survey signaled activity shrank for the first time since late 2016
The euro-zone reading stayed in expansionary territory but dropped to the lowest in nearly two years
Sweden's fell sharply from 55.4 to 52 in December, lowest since February 2016
The U.K. number was a surprising bright spot, gaining to a six-month high as companies built up inventories and boosted orders ahead of Brexit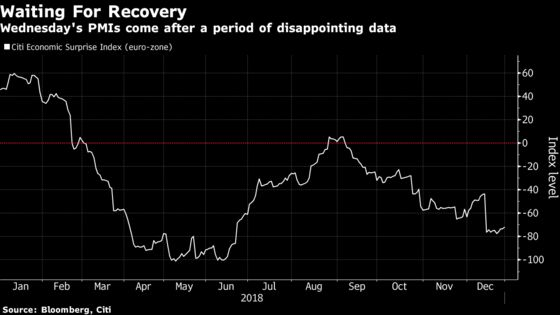 For Europe, the data is particularly worrying after a period of disappointing numbers. Slowing economic momentum is sure to bring more gloom to cyclical sectors already battered and bloodied by trade tensions in 2018. The region's monetary conditions are still loose, so there's also little room for further support.
The day got better as it rolled on, with defensive sectors mounting a solid defense. Bond yields fell, buoying proxy industries like utilities and telecoms. Oil prices rallied, boosting energy stocks, on signs Saudi Arabia was fulfilling a pledge to cut oil exports.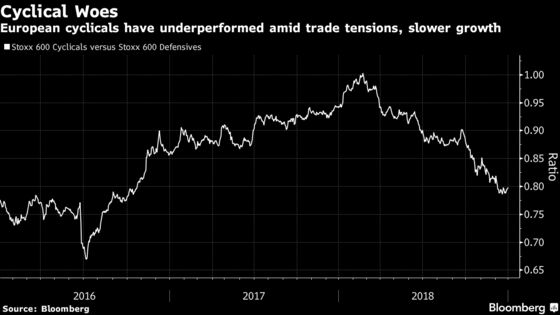 As for the region's largest cyclical sector of all -- banks -- news that temporary administrators appointed by the European Central Bank will take over Italy's struggling Banca Carige SpA is also hurting sentiment.
That doesn't mean there's no hope for cyclicals. U.S. officials will hold trade talks with their Chinese counterparts next week. Shares managed to rise on Monday as the U.S. President touted "big progress" over trade discussions, in a sign traders are focused on the prospects of a grand compromise. There's hope that the "new year, new start" also applies to the strained relations between the world's two superpowers.