European Stocks Drop as Brexit Talks Concern Fuels Investor Exit
(Bloomberg) -- European stocks retreated as concern over the possible collapse of Brexit trade-deal talks weighed on sentiment.
The Stoxx Europe 600 Index dropped as much as 1% before paring losses to 0.3% by the close in London. Banks, retailers and automakers were among the biggest decliners.
U.K. assets are in focus after a British official warned that talks over a future trade deal could collapse on Monday unless negotiators make progress in the next few hours. The more domestically oriented FTSE 250 Index fell 1.3%, with housebuilders among the biggest decliners. The FTSE 100 was up 0.1% as the pound fell, because a weaker currency means exporters in the U.K. equity benchmark get more local-currency revenue for their sales.
"European equity markets are largely lower over concerns that the U.K. and the EU might not strike a trade deal," said David Madden, a market analyst at CMC Markets U.K. "It is in the economic interest of both sides to broker a deal, but that doesn't seem likely at the moment."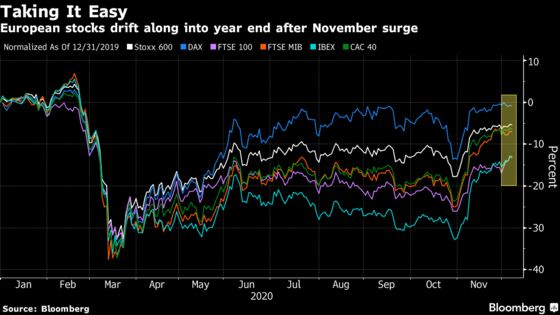 Prime Minister Boris Johnson is due to speak to European Commission President Ursula von der Leyen at 5 p.m. Brussels time on Monday. That conversation will be a make-or-break moment, another U.K. official said.
Among individual stocks, homebuilder Berkeley Group Holdings Plc and Lloyds Banking Group Plc were among the biggest decliners in Europe today.
European equities have broadly plateaued as December trading has got underway, following a rip-roaring November when progress in the development of vaccines against the coronavirus buoyed risk assets. The Stoxx 600 has advanced less than 1% this month, led by more cyclical sectors and value stocks including basic resources, banks and energy.
"There's been some fantastic news about the vaccine, but this now is when almost you get that focus on a lot of the uncertainty that still exists around the vaccine," Seema Shah, chief strategist at Principal Global Investors, said by phone. "This is almost a reality check -- it's still very good news, but maybe somewhat more subdued gains are likely from here."