European Stocks Slump Most in Two Months as Economic Woes Return
European stocks plunged the most in more than two months as investors weighed the magnitude of economic damage from the pandemic, putting a sharp halt to the powerful equity rally.
The Stoxx 600 Index dropped 4.1% by the close, with shares in banks, autos and travel stocks leading losses. These so-called cyclical sectors that are most sensitive to the economy have led the advance in equities since mid-May.
Although European stocks had surged around 30% to a high at the beginning of June, the recovery has stalled as investors took profits on gains for cyclical stocks, with defensive sectors such as health, food and beverages and utilities outperforming this week.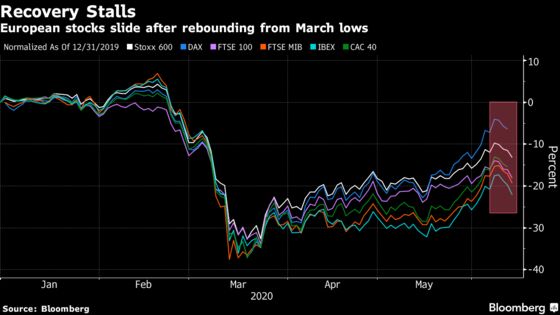 Investor caution has been triggered by mounting signs that a possible second wave of the pandemic could be taking hold in some U.S. states and as the Federal Reserve provided a grim outlook for the economy. U.S. jobless claims remained high, underscoring the longer-term challenges caused by the pandemic.
"We're in the camp of selling the rally and that things have gone a bit too far, too fast," said George Efstathopoulos, a Fidelity International portfolio manager in Singapore. "We're increasingly nervous that there's a disconnect between the economy and markets. And how quickly the pendulum has shifted, where we now think that the asymmetry warrants a lot of caution."
Efstathopoulos said he's been taking profit on U.S. stocks and buying high-yield credit in multi-asset income portfolios since mid-April.
European equities have been catching up with the rally in U.S. stocks in recent weeks after the European Central Bank doubled down on its bond-buying program and Brussels announced a 750 billion-euro ($848 billion) recovery fund.
"You've had all the action taken by the central banks and the governments, and the lockdowns are easing as well, so you've had a rally in anticipation of things getting better and in the action taken having the desired effect," Paul Morgan, an investment manager at Barings, said by phone.