European Stocks Snap Two Days of Losses on Earnings, Stimulus
(Bloomberg) -- European stocks advanced, following two days of losses, as investors assessed earnings reports and the U.S. Federal Reserve extended most of its emergency lending programs by three months.
The Stoxx Europe 600 Index closed up 0.4%, after sliding as much as 0.4% earlier. Real estate shares led gains, while miners fell the most as copper and gold prices declined. Peugeot maker PSA Group climbed 2.4% after sticking to its outlook, while Games Workshop Group Plc jumped after posting an increase in full-year profit.
European equities have lost some ground after climbing to a near five-month high last week as investors weigh fresh coronavirus outbreaks against better-than-expected earnings. Although a Citigroup Inc. index shows analyst profit upgrades turned positive for the first time this year, it may not be enough to boost equities that have already rallied hard in anticipation of a recovery.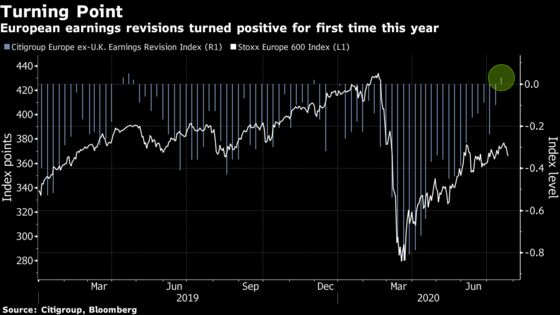 "It is hard to predict the short-term market direction in such choppy conditions," said Ipek Ozkardeskaya, senior analyst at Swissquote Bank. "Hope for more monetary and fiscal stimulus keep investors on track for buying equities."
Investors are awaiting Wednesday's Fed rate decision, after the central bank extended seven of its nine emergency lending programs through the remainder of 2020. Meanwhile, U.S. Senate Republicans presented their $1 trillion plan to bolster the pandemic-ravaged economy. The bill introductions were the first step toward negotiating a compromise plan with Democrats, who've offered their own $3.5 trillion stimulus proposal.
Among other movers, LVMH was the biggest drag on the main benchmark after first-half profit at the French luxury conglomerate missed estimates.