European Stocks Decline as Virus, Tapering Risks Hit Cyclicals
(Bloomberg) -- European equities retreated as worries over omicron's spread reining in global growth along with the pullback in monetary stimulus weighed on sentiment. 
The Stoxx 600 Index closed 0.6% lower, paring a drop of as much as 1.2% in afternoon trading. Technology stocks fell as investors sold out of pricier areas of the market, while automakers slumped after European car sales plunged to a record low in November. Energy shares were under pressure with oil dropping. 
European equities have been retreating further from record highs amid concerns about new restrictions over the omicron variant and as the Federal Reserve announced its hawkish shift. 
Virus risks are in focus as Wales will bring back social distancing rules in offices and close nightclubs after Christmas, adding pressure on U.K. Prime Minister Boris Johnson to introduce tougher measures in England.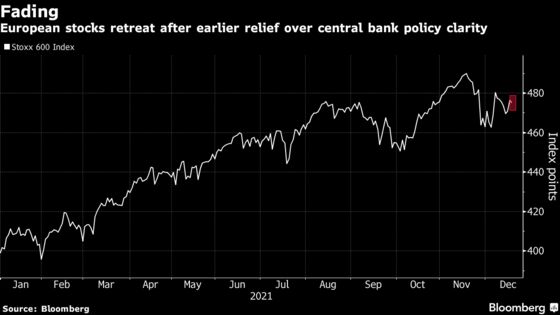 Aneeka Gupta, research director at WisdomTree, said that while the backdrop is much better from a growth perspective, there is still the risk posed by omicron and other virus variants in the background.
"We definitely see there's going to be volatility going into 2022, and that could emanate from inflation, it could even crop up from geopolitical risk," Gupta said by phone. "It's definitely going to be a tricky path to navigate in 2022."
Dealmaking news spurred some individual moves across European equities, with shares in Rubis rising after the French oil-terminal operator agreed to buy as much as 80% of solar developer Photosol. Cellnex Telecom SA dropped after its towers deal risked a veto by the U.K.'s antitrust regulator.
Elsewhere Just Eat Takeaway.com NV was among top gainers after the online food-delivery company entered the U.K. grocery delivery market with a supermarket partnership.
Equities: Euro Stoxx 50 down 1.0%, FTSE 100 up 0.1%, DAX down 0.7%, CAC 40 down 1.1%, FTSE MIB down 0.6%, IBEX 35 down 0.8%, AEX-Index down 1.3%, Swiss Market Index down 0.6%
Bonds: German 10-year-yield down 2bps at -0.38%, Italian 10-year-yield down 6bps at 0.91%, Spanish 10-year-yield down 4bps at 0.34%
Credit: iTraxx Main up 0.5bps at 50.6, iTraxx Crossover up 3.3bps at 253.2
FX: Euro spot down 0.46% at 1.1278, Dollar index up 0.32% at 96.35
Commodities: Brent crude down 1.9% at $73.6/bbl, copper down 0.5% at $9,456/MT, iron ore up 1.2% at $113.15/MT, gold up 0.3% at $1,804.15/oz
8 out of 20 Stoxx 600 sectors rise; utilities sector has the biggest volume at 146% of its 30-day average; 284 Stoxx 600 members gain, 308 decline
Top Stoxx 600 outperformers include: THG +5.1%, WH Smith +4.9%, Rubis +4.7%, Just Eat Takeaway.com +4.6%, Ubisoft Entertainment +4.6%
Top Stoxx 600 underperformers include: DiaSorin -10.8%, Ipsen -8.1%, Nordic Semiconductor -7.8%, Signify -6.3%, Cellnex Telecom -6.0%
You want more news on this market? Click here for a curated First Word channel of actionable news from Bloomberg and select sources. It can be customized to your preferences by clicking into Actions on the toolbar or hitting the HELP key for assistance.