Europe Stocks Rise as Traders Shrug Off Report on Italian Budget
(Bloomberg) -- European equities gained ground on Wednesday, bouncing back following recent sharp losses, as traders brushed aside the European Union's warning that Italy's populist government's spending drive violates the bloc's fiscal rules.
A report saying the U.S. Federal Reserve is starting to consider at least a pause to its gradual monetary tightening and could end its cycle of rate hikes as early as the spring also helped improve sentiment.
The Stoxx Europe 600 Index was up 0.4 percent at 1:04 p.m. CET. rebounding from a near two-year low hit on Tuesday. Telecoms, banks and autos shares led the advance.
Italian bonds and stocks were up, with the FTSE MIB rising 0.8 percent, shrugging off EU's warning that the nation is in serious non-compliance with fiscal rules and an excessive deficit procedure is warranted.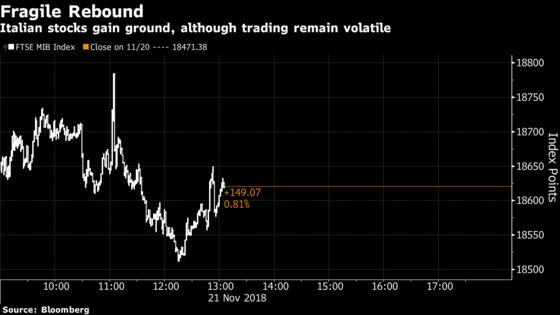 The overall mood remained cautious, however, after the S&P 500 Index closed on the cusp of a correction on Tuesday.
"An end-of-year rally is unlikely at this stage given the renewed trade tensions between the U.S. and China and the political challenges in Europe (Brexit and Italy) and the fact that global GDP growth is slowing," said Vincent Juvyns, a global market strategist at JPMorgan Asset Management. "This said, a lot of these elements are already incorporated in assets prices which should provide a cushion as we enter 2019."