European Stocks Rise as Retail Frenzy Eases, Travel Shares Jump
(Bloomberg) -- European stocks rose for a second day as concerns about volatile retail trading receded, while optimism about summer vacations boosted travel and leisure shares.
The Stoxx Europe 600 Index was up 1.3% at the close. Travel and leisure led gains among sectors after U.K. Prime Minister Boris Johnson said he's "optimistic" people will be able to have summer holidays this year. Hotel operators Whitbread Plc, InterContinental Hotels Group Plc and Accor SA climbed.
Shares of silver miners like Fresnillo Plc tumbled along with the price of the precious metal as a retail frenzy driven by Reddit traders eased. Earnings were also in focus, with BP Plc shares sliding 4.5% after the oil major's fourth-quarter earnings fell short of expectations.
European equities last week fell more than 3% as some of the region's most-shorted stocks saw volatile trading amid a tussle between day-traders and hedge funds, sparked by an outsized rally in U.S. stock GameStop Corp. The trend showed signs of easing on Tuesday, however, with Europe's most-shorted shares trading mixed, while GameStop slumped.
"In this kind of environment where you do have clear signs of over-valuation across most asset classes, when there are growing concerns about bubbles, whether or not they're there, and over leverage, you are inevitability going to see these kinds of events unfolding," Seema Shah, chief strategist at Principal Global Investors, said by phone.
"If the wider market is suffering from this kind of event, then, to us, given the fundamentals, it's really a buying opportunity," Shah added.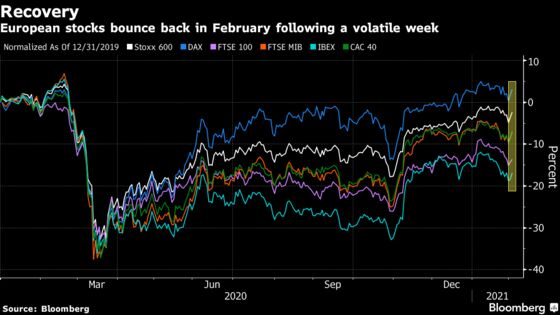 In the U.S., President Joe Biden plans to pursue a drive for a large pandemic relief bill, even if he has to bypass Senate Republicans, his press secretary said, giving a boost to stimulus hopes.
Meanwhile, the European Union predicted a jump in the domestic supply of Covid-19 vaccines during the second quarter, after German Chancellor Angela Merkel pledged a first vaccine dose for all Germans by the end of September.
You want more news on this market? Click here for a curated First Word channel of actionable news from Bloomberg and select sources. It can be customized to your preferences by clicking into Actions on the toolbar or hitting the HELP key for assistance.