European Stocks Open Steady as Rock of Gibraltar Shadows Brexit
(Bloomberg) -- European shares were little changed on Black Friday, with U.S. traders set to return after the Thanksgiving holiday. Spain made a last-minute entrance to the scene of Brexit talks, highlighting the question of Gibraltar's future.
The Stoxx Europe 600 was steady in early trade. The bank sector had the strongest start, rising 0.4 percent, while basic resources fell 0.8 percent. Sectors previously impacted by trade tensions, among those steelmakers and automakers, may be back in fashion amid indications that both the U.S. and China are ready for talks at the G-20 summit in Argentina next week.
After Thanksgiving and closed markets in the U.S., the European markets were expected to start Black Friday on a quiet note, said Martin Guri, head of Nordic strategy at Kepler Cheuvreux. "The general market tone in Asia overnight was negative, so no support to Europe from there."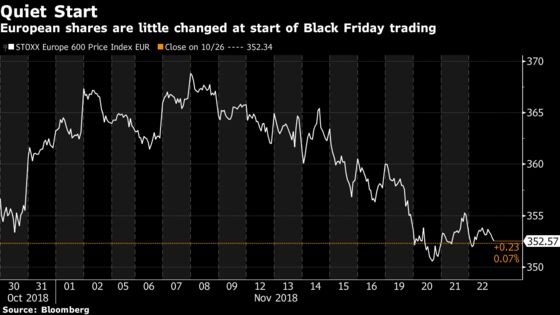 "Focus is on the upcoming EU-Brexit decision on Sunday," Guri said. "Otherwise it is the development and signals ahead of the G-20 meeting next weekend that catches attention. Italy is also a factor keeping investors skittish."