Rising Telecoms, Energy Shares Help Europe Stocks Reverse Losses
(Bloomberg) -- European equities reversed an early retreat and turned flat as U.S. stock index futures pared losses ahead of the stock market open in New York.
The Stoxx Europe 600 Index briefly turned positive on the day after losing as much as 0.7% in the morning. Telecoms outperformed, with Deutsche Telekom AG up 2.3 percent and BT Group Plc up 2.1 percent. Oil and gas producers were also the center of attention with Total SA climbing 1.8 percent as oil prices rose amid tensions between the U.S. and the kingdom of Saudi Arabia.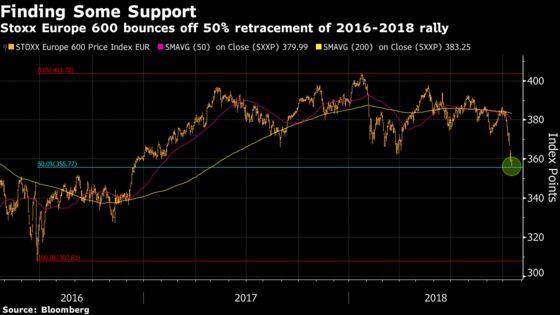 Last week's sell-off across the globe sank European equities as investors rotated out of equities amid rising bond yields following the U.S. Federal Reserve's latest rate hike and amid the brewing U.S.-China trade conflict. The market pull-back has prompted some investors to shift toward value sectors, such as telecoms.
"Investor nerves clearly remain a little frazzled amidst this ongoing debate about where the choke point for U.S. interest rates is with regards to both the U.S. economy and the wider stock market," said William Hobbs, head of investment strategy at Barclays Investment Solutions in London. "The ebbing fiscal sugar-high combined with some gathering effects from the trade war may be helping to muddy the debate further."
"Stocks are still the place to be, particularly relative to a bond market that will continue to wrestle itself back to more normal yields amidst a still healthy global economic backdrop," Hobbs said.
The FTSE 100 Index also pared losses and was up 0.2 percent. The U.K. and the European Union are on course to miss this week's key milestone for a Brexit deal, after talks broke up in stalemate on Sunday. Italy remained on investors' minds as the European Commission is set to start reviewing the country's plan to start delivering on costly election promises.
Later this week, investors' focus will be turning to the start of the earnings season, looking for signs that trade tariffs may be hurting profitability. The week kicked-off with several ominous announcements, as Superdry Plc tumbled as much as 22 percent after a profit warning. ConvaTec Group tumbled as much as 37 percent after lowering its full-year revenue growth forecast, citing an inventory policy change by a top customer. Airbus SE dropped as much as 2.4 percent as oil climbed and La Tribune reported that the company is facing delivery delays after meeting difficulties related to the cabin configuration of its A321neo models.