Europe Stocks Rise on Manufacturing Growth After Last Week's Dip
(Bloomberg) -- European shares rallied on Monday, reversing last week's losses, as data showing U.S. manufacturing expansion added to the optimism over euro-area factories returning to growth.
The Stoxx Europe 600 Index ended 2.1% higher, led by the auto, media and construction sectors. Banks underperformed, with HSBC Holdings Plc falling 2.9% after first-half pretax profit missed estimates and more than halved to $5.6 billion.
U.S. manufacturing expanded in July at the fastest pace since March 2019, adding to the earlier positive sentiment after the euro-area posted its first manufacturing expansion in one-and-a-half years. This could provide stock investors with the impetus to keep the rally going after the market last month recorded its biggest pull-back since the March turmoil amid concern over the pace of the global economic recovery.
"If one considers that the economy is due to rebound next year and continue to do so -- and earnings should rebound significantly -- yes, markets look attractive, and especially the EU one," said Stephane Ekolo, an equity strategist at TFS Derivatives in London.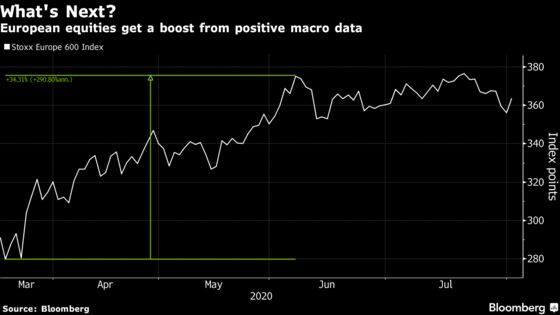 The Covid-19 pandemic continues to pose a risk as cases in some U.S. states rise, while U.S.-China tensions are also in focus because the Trump administration is expected to announce measures against Chinese-owned software deemed to pose national-security risks.
"The unknown is once again the Covid-19 and when/if we are going to find a workable vaccine," Ekolo said.
As the earnings season continues, Morgan Stanley strategists said in a note that 50% of European companies have beaten earnings-per-share estimates by 5% or more, while 30% have missed, resulting in a "strong" net beat of 20% of firms.
Among other notable equity movers, MTU Aero Engines AG slumped 5.5% after the company reported second-quarter earnings that missed consensus estimates, while Trainline Plc fell 10% following a Sunday Times report on the company's commissions.