European Stocks Gain to Record as Risk Appetite Sustains Rally
(Bloomberg) -- European stocks advanced to a fresh record as risk appetite remained strong amid a positive earnings season that reinforced investor optimism that growth will continue. 
The Stoxx 600 Europe Index added 0.2% by the close in London, with retail and consumer products sectors leading the gains. Diageo Plc rose after saying it will emerge from the pandemic with stronger-than-expected growth in the medium term. Vodafone Group Plc climbed after its revenue beat estimates and it raised forecasts. Prosus NV advanced after a trading update.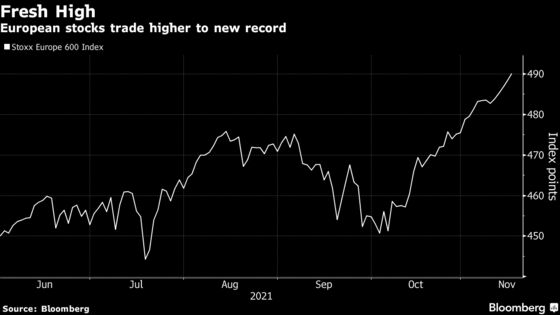 Markets in the region are sustaining this year's rally, with the main benchmark 23% higher, as investors keep a positive view on equities on bets that robust corporates results and supportive monetary policy can continue powering economic growth. 
Adding to the bullish sentiment on Tuesday, U.S. retail sales rose in October for a third month, as households continued to spend.
Europe's Widening Discount Has Strategists Hooked: Taking Stock
"There is a very calm tone in the market as the message that inflationary and bottleneck risks are temporary is being accepted," said Jaime Espejo, equities fund manager at Imantia Capital in Madrid. "Central banks are handling very well the uncertainties and there is enough support for equities to maintain gains."
Investors are now more constructive on global growth and earnings, and 51% expect lower inflation, according to a Bank of America Corp. survey. Fund managers are getting increasingly bullish on European equities, with 71% of participants in a monthly poll expecting the region's rally to continue until at least next year, BofA said.
Among other notable movers, Jeronimo Martins SGPS slumped the most since 2014 after a holder sold its stake at an 8.6% discount to the last close. Thyssenkrupp AG jumped the most since November 2020 after plans for an initial public offering of a unit that helps to build hydrogen plants.
Equities: Euro Stoxx 50 up 0.3%, FTSE 100 down 0.3%, DAX up 0.6%, CAC 40 up 0.3%, FTSEMIB down 0.2%, IBEX 35 down 0.6%, AEX-Index up 0.4%, Swiss Market Index up 0.3%
Bonds: German 10-year-yield down 1bps at -0.24%, Italian 10-year-yield down 2bps at 0.97%, Spanish 10-year-yield down 3bps at 0.47%
Credit: iTraxx Main down 0.2bps at 48.9, iTraxx Crossover down 2.3bps at 247.1
FX: Euro spot down 0.28% at 1.1336, Dollar index up 0.4% at 95.79
Commodities: Brent crude up 0.4% at $82.4/bbl, copper down 1.4% at $9,534/MT, iron ore unchanged at $92.0/MT, gold down 0.5% at $1,854.02/oz
10 out of 20 Stoxx 600 sectors rise; telecoms sector has the biggest volume at 130% of its 30-day average; 265 Stoxx 600 members gain, 326 decline
Top Stoxx 600 outperformers include: thyssenkrupp +12.0%, HomeServe +7.1%, Allegro.eu +5.6%, Vodafone Group +4.8%, Equinor +4.7%
Top Stoxx 600 underperformers include: Jeronimo Martins SGPS -11.1%, THG -8.2%, S4 Capital -5.6%, Banco de Sabadell -4.9%, Getinge -4.6%
For a daily wrap highlighting the biggest movers among EMEA stocks, click here
You want more news on this market? Click here for a curated First Word channel of actionable news from Bloomberg and select sources. It can be customized to your preferences by clicking into Actions on the toolbar or hitting the HELP key for assistance.