European Stocks Decline as Metal Slide Drags Down Mining Shares
(Bloomberg) -- European stocks fell as a drop in metal prices weighed on mining companies and investors awaited critical monetary policy decisions this week.
The Stoxx Europe 600 slipped 0.3 percent, with the basic resources sector as its worst performer amid concerns rising global trade tensions and a wobblier Chinese economy will weaken demand for metals. Technology stocks also fell, after declines in their U.S. counterparts on Friday. Central banks in the U.S., Japan and the U.K. all meet this week, with the Bank of England expected to hike rates.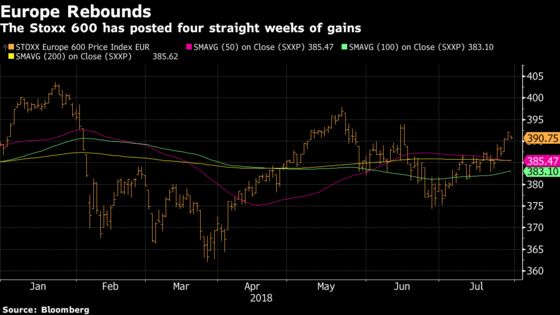 Monday's decline followed four straight weeks of gains in Europe's stock benchmark as fears over a global trade war subsided somewhat and the ongoing earnings season broadly met investor expectations.
Heineken NV was set for its biggest drop since April 2013 on Monday after it forecast a drop in profitability amid an expansion into Brazil. Air Liquide SA and Siemens Healthineers AG also fell after reporting earnings.