European Stocks Trim Annual Loss With Biggest Jump Since April
(Bloomberg) -- European equities rose the most in almost nine months, curbing this year's losses in one of the last trading sessions of 2018.
The Stoxx Europe 600 Index closed up 2 percent, the biggest one-day gain since April 5, trimming its year-to-date decline to 14 percent. All sectors climbed, although cyclical shares and financials led the rally, with construction materials, oil and technology also posting some of the biggest gains. The Euro Stoxx 50 Index, which closed in a bear market on Thursday, advanced 1.7 percent Friday.
"It seems that equity markets finally experience some gains in the last few hours of a challenging year, to say the least," said Fabrizio Quirighetti, Chief Investment Officer for Syz Asset Management. "However, this rebound looks like more technical, kind of a short squeeze after the sharp drop in the last few weeks, given the low volume and the lack of fundamentals' support to explain it."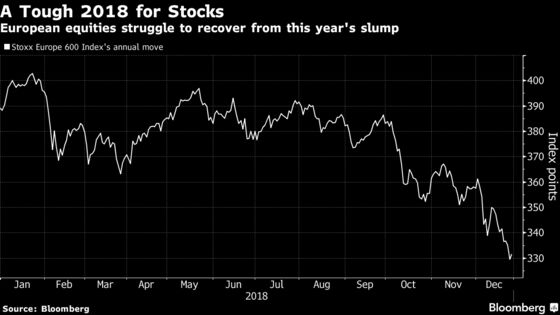 European equities are set for their worst annual performance since the 2008 financial crisis after political and economic concerns fueled an investor exodus. Still, shares are being helped today after the American benchmark index erased a drop of almost 3 percent in an afternoon recovery Thursday, the biggest upward reversal since 2010.
It wasn't enough to help the DAX Index, however. That gauge closed trading for the year on Friday with an 18 percent annual decline, the first year of losses in seven.
The S&P 500 Index swung between gains and losses after on Thursday recording the biggest reversal since 2010.