Even Merkel Shocker Can't Derail Europe Stocks' Monday Comeback
(Bloomberg) -- It's risk-on in Europe on Monday after a dismal last week, so much so that news of Angela Merkel's decision not to run for a new term as leader of the Christian Democratic Union is being taken with "a pinch of salt."
The Stoxx Europe 600 index gained as much as 1.8 percent, the most in intraday terms since April. The index has pared its advance to 1.3 percent as of 3:29 p.m. in London, following a similar move in U.S. equities.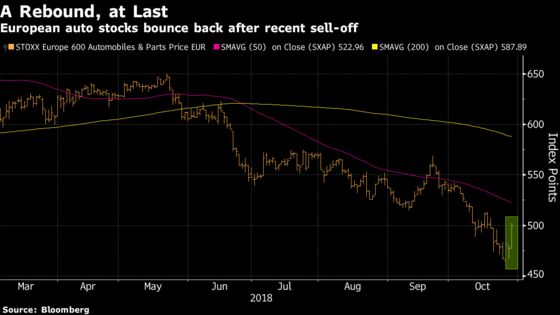 The glass is half full for traders, who are scooping up recently-battered shares in sectors including autos and banks. Even news that German Chancellor Merkel won't seek the party leadership again got a positive spin from some equity watchers, though it also weighed on the euro.
Her departure is sparking some hopes that potential stimulus might be in the pipeline to bolster the economy, said Stephane Ekolo, equity strategist at TFS Derivatives. Her announcement came after another bruising setback in a regional election yesterday.
"The news seems big, but at the end of the day, it's not really a game changer because everyone knew she would leave at some point," said Jerome Troin-Lajous, cross-asset sales trader at Louis Capital Markets. "It comes during a big risk-on day for equity markets. People seem to take it with a pitch of salt, they're just too busy buying the dip after such a market pull-back."
The DAX was up 1.7 percent, led higher by stocks including Volkswagen AG and Daimler AG, both up at least 3 percent. The auto sector -- among the most hit by trade tensions -- got some good news from China, with the country's top planning body said to propose halving the car purchase tax. This year's meltdown in European auto stocks has cut the sector's price-to-earnings ratio to 6.8, near the lowest since 2012.
"Investors are coming back on the DAX, which is also helped by news on the Chinese tax," TFS's Ekolo said.
Italian stocks also featured among the biggest gainers on Monday, with the volatile FTSE MIB index up 2.3 percent after the country was spared an S&P downgrade. The rating agency only cut the country's outlook to negative, which had a positive effect on Italian bonds. Gains were led by stocks including Banco BPM SpA and Telecom Italia.
"Overall, this is mostly a technical bounce as stocks were very oversold," Troin-Lajous said. "We're still missing a big catalyst for stocks to resume their march higher."
And not everyone sees the Merkel news as positive for markets.
"In the medium term it will only increase worries as there is no clear successor so we don't know what the new policy will be like," said Manish Singh, the London-based chief investment officer at wealth-management firm Crossbridge Capital. "With the exit of Merkel, the EU would be robbed of the only political leader who appears to have the stature and experience to hold the bloc together as it stumbles from one crisis to the next."