European Stocks Rise in Thin Trading as Risk Appetite Returns
(Bloomberg) -- European equities rose to a two-week high in muted pre-holiday trading as investors weighed omicron lockdown risks against optimism that growth can continue. 
The Stoxx Europe 600 Index closed up 0.9%, with technology leading the gains. Travel and leisure advanced after U.K. Prime Minister Boris Johnson ruled out stricter pandemic restrictions before Christmas, but airlines later trimmed gains as Ryanair Holdings Plc cut its forecast due to the omicron variant's spread. 
European equities have slipped from record highs in recent weeks amid concern that the omicron virus strain will damage the economic recovery, and as central banks turned more hawkish in response to surging inflation. However, many major fund managers still view stocks as the asset class with the higest return potential as bond yields remain low.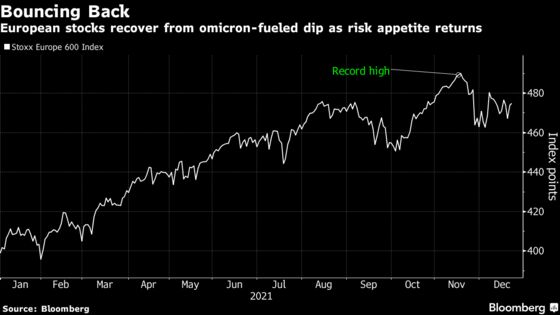 U.S. monetary policy turning more hawkish may be having a greater impact on markets than the latest wave of infections, according to Marko Behring, head of asset management at Fuerst Fugger Privatbank.
"The Fed's change of direction since December has depressed the stock market mood and speaks for a much more turbulent year in 2022," Behring said. "Hence, it doesn't hurt to be prepared for higher volatility and to reduce risk at one point or another."
U.S. economic data, including home sales and rising consumer confidence, offered optimism to investors in the afternoon trading. Sentiment was also helped Wednesday by comments from U.S. President Joe Biden that there's still a chance he can strike a deal with Senator Joe Manchin to get his economic plan through Congress.
Among individual movers, Airbus SE gained following a report that it's on track to meet its 600-jet delivery goal for 2021. Delivery Hero SE jumped after plans to exit its food delivery business in Germany and to divest its Japanese operations.
Equities: Euro Stoxx 50 up 1.0%, FTSE 100 up 0.6%, DAX up 0.9%, CAC 40 up 1.2%, FTSE MIB up 0.7%, IBEX 35 up 0.9%, AEX-Index up 0.9%, Swiss Market Index up 0.2%
Bonds: German 10-year-yield up 1bps at -0.29%, Italian 10-year-yield up 4bps at 1.05%, Spanish 10-year-yield up 2bps at 0.46%
Credit: iTraxx Main down 0.8bps at 49.5, iTraxx Crossover down 6.0bps at 248.9
FX: Euro spot up 0.35% at 1.1324, Dollar index down 0.36% at 96.14
Commodities: Brent crude up 0.8% at $74.6/bbl, copper up 0.7% at $9,605/MT, iron ore down 0.5% at $113.99/MT, gold up 0.5% at $1,797.38/oz
20 out of 20 Stoxx 600 sectors rise; utilities sector has the biggest volume at 98% of its 30-day average; 496 Stoxx 600 members gain, 99 decline
Top Stoxx 600 outperformers include: Delivery Hero +7.4%, AddLife +6.6%, Allegro.eu +5.0%, Demant +4.5%, Dechra Pharmaceuticals +4.5%
Top Stoxx 600 underperformers include: Lundin Energy -11.4%, Aker BP -6.9%, Zur Rose Group -4.2%, Yara International -3.0%, Rentokil Initial -2.6%