Europe Stocks See Glimmer of Hope as EU Stance on Italy Softens
(Bloomberg) -- European stocks saw a much-needed glimmer of hope as the European Union struck a conciliatory chord toward Italy's budget and U.S. stocks rebounded.
An EU official said it won't interfere with Italy's economic policies, helping to reverse a slide in Italian assets, just as investor worries over EU opposition to the country's aggressive budget were coming to a head. Meanwhile, the S&P 500 headed for its first gain in three days. For once, wobbly U.S. and Italian markets weren't dragging on European stocks.
But of course, not everything turned around for the better over the span of a day. Europe's auto sector extended its decline after Daimler issued a second profit warning in four months. The industry's valuations might have plunged to multi-year lows, but now the sector is starting to feel like a value trap.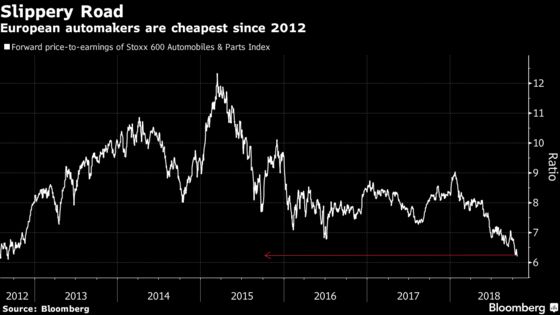 The Stoxx Europe 600 was up 0.2 percent as of 4:09 p.m. CET. On the week, the European benchmark is up 0.9 percent, set for its first week of gains in a month.
With the Italian picture improving, banks also clawed back losses on Friday. Still, this is another area that investors might be worried is a value trap. "We advise not to hold any bank for the coming days/weeks," Valerie Gastaldy, technical strategist at Day By Day, said in a note. "Wait for the market to show a convincing bottom, and then for the sector to stabilize before buying."
Global investors will probably need more good news to spur a return to the region. Europe equity funds posted their biggest outflows in 27 weeks, according to Bank of America Merrill Lynch. This brings outflows so far this year to $50 billion.
China's stocks rebounded after top officials sought to reassure investors -- but that's likely little comfort for European stocks exposed to emerging markets when data released overnight show the country's economic growth cooled in the third quarter to its slowest pace since the aftermath of the global financial crisis in 2009.
Here's what's happening across European markets:
Italy's FTSE MIB Index rose 0.4 percent, reversing a slide of as much as 1.8 percent
France's CAC 40 is also underperforming the region with a 0.3 percent loss, dragged lower by Michelin, Valeo, Bouygues
The FTSE 100 is up 0.5 percent, cushioned by the pound's losses on Thursday amid stalled Brexit talks
Spain's IBEX climbed 0.6 percent as banks reversed losses
Swiss stocks jumped 1.2 percent as a broader defensive shift benefited that country's particular sector mix
Here is the top corporate and sector news in Europe:
A Brookfield Property Group venture sweetened an offer for U.K. mall owner Intu Properties Plc to value the company at 2.9 billion billion pounds.
A Chinese airline that's been an exclusive operator of Boeing Co. jets for more than 30 years is in talks with Airbus SE on a potential plane purchase.
Volvo AB expects another leg up in North American truck demand next year, offsetting a forecast for the market to drop in Europe. The company's third-quarter results beat expectations.
French construction and telecoms company Bouygues SA slumped after warning that work disruptions at its operations will weigh on profit this year.
London Stock Exchange Group Plc's new chief has kicked off his tenure by increasing the company's stake in the world's largest clearing house for interest-rate swaps, LCH Group Holdings Ltd.
Telia slid after Jefferies said third-quarter earnings showed soft numbers in Sweden.
Food stocks rose in Europe on a delayed response to Nestle's solid third-quarter numbers.
Staffing companies Randstad and Adecco dropped after their U.S. peer ManpowerGroup's fourth-quarter profit forecast missed estimates.