European Stocks Advance as Investors Prepare for Earnings Season
(Bloomberg) -- European equities rose as investors eyed the start of the earnings season, which may offer clues to the pace of economic recovery.
The Stoxx Europe 600 Index climbed 1%, led by cyclical, or more economically sensitive sectors, such as miners, chemicals and travel stocks. DNB ASA, Norway's biggest bank, gained 9.9% after delivering second-quarter earnings that beat even the most optimistic estimates.
The reporting season kicks off this week with the likes of Volvo AB, Electrolux AB and Nordea Bank set to shed light on the virus's profit impact. Investors will also be mulling whether the stock market's rapid rebound since the start of the Covid-19 pandemic has been wise or foolish. In addition to the earnings releases, market players will also look to China's second-quarter gross domestic product data on Thursday in addition to U.S. retail sales.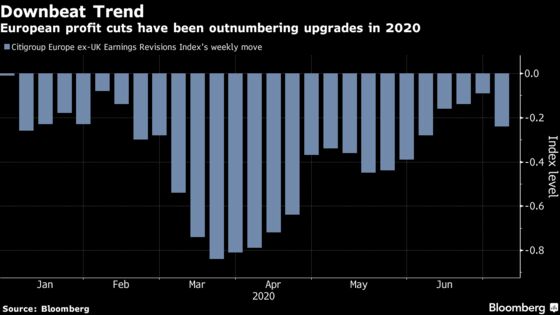 "The market this week will focus on Chinese GDP data, U.S. retail sales and the proposed recovery fund, in addition to the second-quarter reporting season," said Ulrich Urbahn, head of multi-asset strategy and research at Joh Berenberg Goss. "Given declining volatility and high cash holdings, money is coming back to equity markets, and we remain constructive."
JPMorgan Chase & Co. strategists led by Mislav Matejka said that the hurdle rate for second-quarter earnings appears "very subdued," but in the latter half of the year comparisons will get "much tougher" because activity momentum could stall after July. Earnings per share for companies in the Stoxx 600 are expected to contract 59% from a year earlier, which according to JPMorgan is the lowest such forecast by consensus since the global financial crisis.
Better-than-expected earnings could lead to a bounce in cyclical stocks as they report in coming weeks, but Matejka says this trend will likely not last.
Among other notable movers, Neles Oyj surged 38% to a record high after Swedish engineering giant Alfa Laval AB agreed to buy the company in a deal that values the Finnish valve maker at roughly $2 billion.