European Shares Extend Declines With U.S. Stocks as Rally Fades
(Bloomberg) -- European stocks extended losses as U.S. indexes declined and the dollar strengthened against the euro. The three main U.S. gauges fell, reversing Tuesday's gains. Caution was evident in the debt market, where Treasuries were stable and most European government bonds climbed.
The Stoxx Europe 600 Index dropped 0.7% as of 4:40 p.m. CET, after erasing a prior advance of as much as 0.7 percent. The automakers' index extended losses to 2.5 percent. The sector experienced weakness from the open after Goldman Sachs said there's potential for a downward earnings revision by suppliers. Tech shares trimmed earlier gains, despite a strong outlook from semiconductor-equipment maker ASML Holding NV, and as Nasdaq futures dropped.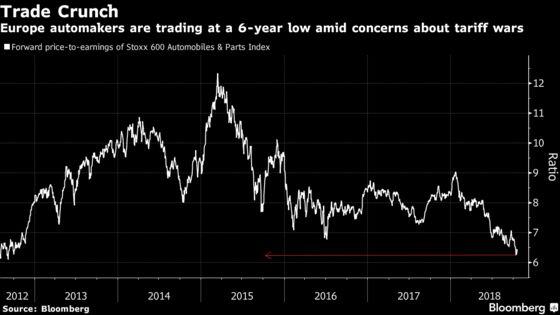 All eyes are on European earnings as analysts watch for signs of an economic slowdown and damage from tariff wars. So far, results have been mixed, with ASML forecasting fourth-quarter sales that beat analyst estimates, and British American Tobacco Plc warning that revenue from smoking alternatives will miss expectations this year.
"Third-quarter results will be a reality check for the markets amid worsening investor sentiment," said Barclays Plc strategists, led by Emmanuel Cau. "Softer global activity, trade uncertainty and a challenging EM backdrop will be reflected in lower EPS growth. However, expectations do not look elevated and the sharp price-to-earnings de-rating year-to-date provides some cushion to equity prices."
Investors are also focusing on Theresa May's trip to a summit in Brussels this week as she tries to break the deadlock in Brexit negotiations amid speculation that the latest proposals could be thrown out by Parliament. The FTSE 100 Index fell 0.6 percent.