European Shares Rise on Brexit Deal and China Trade Concessions
(Bloomberg) -- European shares jumped at the open, reversing some of Wednesday's decline, as investors welcomed the latest developments in the Brexit saga and as China is said to outline concessions to the U.S. on their trade dispute.
The Stoxx Europe 600 was up 0.2 percent, with autos and tech shares down. Carmakers dropped after Citigroup Inc. said it sees a 10 percent to 15 percent downside to consensus earnings expectations at BMW AG and Daimler AG. Chipmaker AMS AG slumped 9 percent, adding to the previous day's drop, as it reduced revenue estimates.
While U.K. Prime Minister Theresa May has obtained her cabinet's approval for her Brexit agreement with the European Union, she is fighting for her political life as a growing revolt from within her own party puts her plans in peril. The trading bloc has called a summit in Brussels on Nov. 25 to sign off on the deal.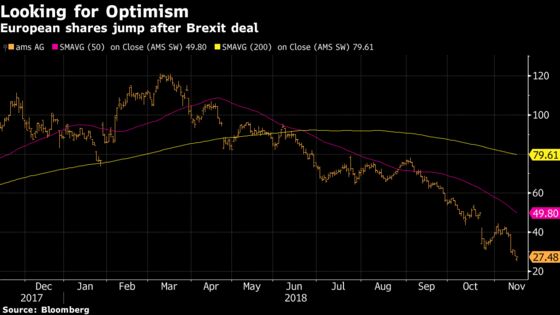 "The first headlines could be read as positive on the Brexit deal, but it certainly looks like it is not over at all and I wouldn't be buying today into optimism on this ," said Ricardo Gil, head of asset allocation at Trea Asset Management. "The key today will be again how U.S. futures trade as the market there nears the opening as they've been marking Europe's trading in recent sessions."
Elsewhere, on Wednesday Federal Reserve Chairman Jerome Powell played down recent turbulence in the stock market, saying equity volatility was only one of many factors that the Fed takes into account when making policy decisions. In China, officials have outlined a series of potential concessions to the Trump administration for the first time since the summer.