European Shares Recover as Investors Return to Buy Dip in Tech
(Bloomberg) -- European stocks advanced the most in more than two weeks as investors bought the dip in risk assets after higher bond yields fueled volatility.
The Stoxx Europe 600 Index gained 0.8% by the close in London, with technology stocks leading the advance as the tech-heavy Nasdaq 100 extended its rebound. The real estate sector dropped the most, dragged lower by Castellum AB, which declined after its chief executive officer was ousted after only one month in the job.
Stocks in the region have kicked off the year on a volatile note as investors worry about tightening monetary policy and possible economic damage from the omicron coronavirus variant. Rising bond yields have fueled a shift out of frothier parts of the market, such as technology, and into cheaper so-called value shares, helping Europe outperform U.S. stocks.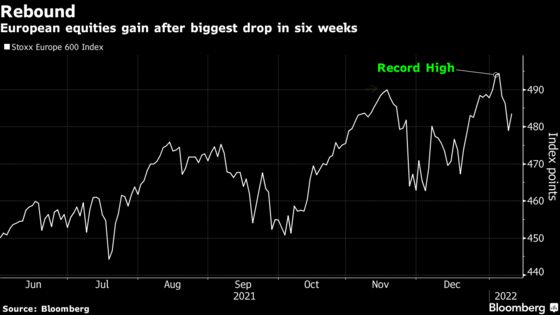 "We believe a combination of earnings revisions, bearish positioning in European equities and attractive valuations could pave the way for a strong equity rally over coming months," BNP Paribas SA strategists led by Ankit Gheedia said in a note.
Sanford C. Bernstein strategists led by Sarah McCarthy are tactically overweight Europe on a one-year horizon, saying the U.S. is more vulnerable to rising bond yields and that the earnings gap between the two regions is narrowing.
"I think strong growth will probably keep the market stable, perhaps even moving higher, particularly in reflation areas -- I think Europe will actually outperform," Bhanu Baweja, chief strategist at UBS Group AG, said in a Bloomberg TV interview. "The market should be able to hold up for now."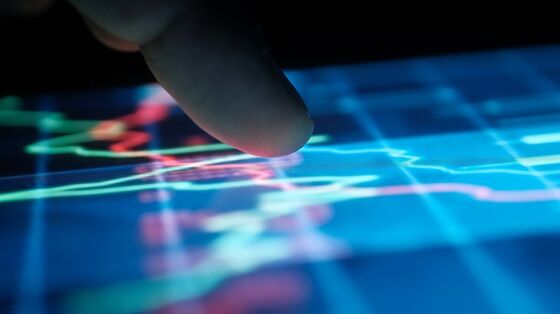 U.S. consumer-price inflation due to be released Wednesday is anticipated to have increased further to 7.1% in December, which would be the fastest pace in almost four decades.
"The worries we are seeing over inflation are normal as markets will have less support from central banks, but it's because the economy is strong enough, so the reason behind it is a good one," said Diego Fernandez, chief investment officer at A&G Banca Privada in Madrid.
Fernandez added that 2022 will be a year when everything including monetary policy and earnings will return to normal and as markets adjust to that new scenario, volatility should be expected.
Tech and Travel Rebound, JDE Peet's Declines: EMEA Equity Movers
Among individual moves, Commerzbank AG and Deutsche Bank AG declined as shareholder Cerberus Capital Management sold shares in both German lenders. Delivery Hero SE jumped after saying it expects its food delivery business will break even in the second half of the year.
Equities: Euro Stoxx 50 up 1.0%, FTSE 100 up 0.6%, DAX up 1.1%, CAC 40 up 1.0%, FTSEMIB up 0.7%, IBEX 35 up 0.6%, AEX-Index up 1.2%, Swiss Market Index up 0.9%
Bonds: German 10-year-yield unchanged at -0.03%, Italian 10-year-yield up 1bps at 1.3%, Spanish 10-year-yield unchanged at 0.65%
Credit: iTraxx Main down 0.9bps at 50.8, iTraxx Crossover down 5.7bps at 251.4
FX: Euro spot up 0.35% at 1.1366, Dollar index down 0.34% at 95.66
Commodities: Brent crude up 3.3% at $83.5/bbl, copper up 1.6% at $9,718/MT, iron ore up 0.3% at $128.0/MT, gold up 0.8% at $1,816.02/oz
19 out of 20 Stoxx 600 sectors rise; consumer products & services sector has the biggest volume at 169% of its 30-day average; 448 Stoxx 600 members gain, 145 decline
Top Stoxx 600 outperformers include: Sinch +10.0%, Allegro.eu +5.7%, BE Semiconductor Industries +5.6%, Prosus +5.5%, Hays +5.4%
Top Stoxx 600 underperformers include: Games Workshop Group -10.9%, Oxford Nanopore Technologies -6.0%, Castellum -4.4%, Storskogen Group -4.2%, Commerzbank -4.1%
For a daily wrap highlighting the biggest movers among EMEA stocks, click here
You want more news on this market? Click here for a curated First Word channel of actionable news from Bloomberg and select sources. It can be customized to your preferences by clicking into Actions on the toolbar or hitting the HELP key for assistance.