European Shares' Main Hurdle Hasn't Been Lifted: Taking Stock
(Bloomberg) -- Theresa May's latest attempt to salvage a win in the U.K. Parliament has failed. For a brief moment yesterday morning, investors hoped a deal could happen. But that was short-lived. After nearly three wasted years for U.K. stocks since the Brexit referendum, a new beginning for one of the world's most underweight equity markets will have to wait. With the extension of article 50 seen by some as "inevitable," here are a few things to keep in mind, as the pound may stay volatile for longer.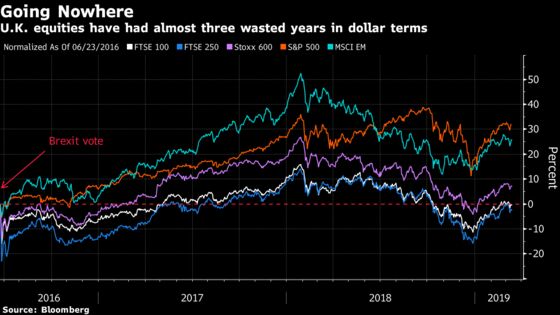 And for U.K. large caps, it's all about the pound, says Edmund Shing, BNP Paribas' global head of equity derivatives strategy. A strong currency leads to the "relative under-performance of integrated oil & gas, pharmaceutical and global telecoms stocks versus the Euro Stoxx, and also versus U.K. mid-caps (which are more domestic in orientation and so less FX-exposed)," he says.
The strategist noted the stronger-than-expected U.K. GDP growth in January as a surprise addition to the decent picture, which is again more supportive of domestic smaller caps. This brings attention to the British retail sector, which has gained over 20 percent year-to-date, according to Shing. Should a clearer Brexit path unleash the U.K. consumer, this will be one to watch closely.
Morgan Stanley is a strong advocate of U.K. exposure, too, saying that domestically-focused stocks are attractively valued and should benefit from any reduction in Brexit-related uncertainty. They cite U.K. banks, real estate, insurers and airlines as the most sensitive sectors. Bottom line, the Parliament taking back control of the process could be taken positively.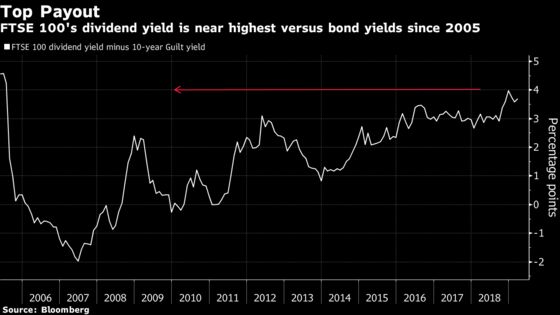 There was some consensus to favor U.K. domestic stocks versus exporters before the vote, and for a good reason. An improvement in sentiment toward the country could also help fuel a re-rating of U.K. stocks generally. At the moment, the FTSE 100's relative valuation to Europe is near a nine-year low, and the relative payout to the U.K. 10-year bond yield is near historic highs.
For Citi strategists, U.K. equities look cheap "from all angles" as "many investors view the U.K. as uninvestable; we get it, but see decent valuation support and continue to see upside risks to U.K. share prices in the absence of a negative Brexit outcome," they write in a note.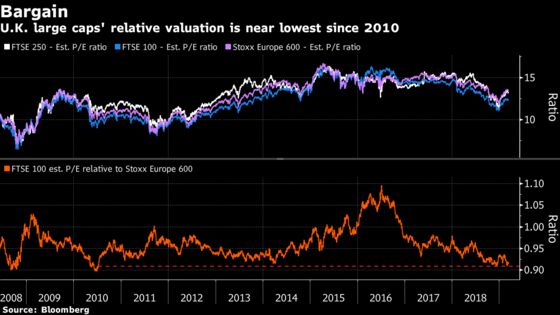 It's not just the U.K. domestic banks are likely to get a boost from a reduced Brexit uncertainty, euro-zone lenders may also benefit, according to Morgan Stanley. In fact, the relative performance of euro-zone banks has tracked the pound closely over the last year. A Brexit deal, when it comes, would also be positive for the euro, which has been another driver of banks.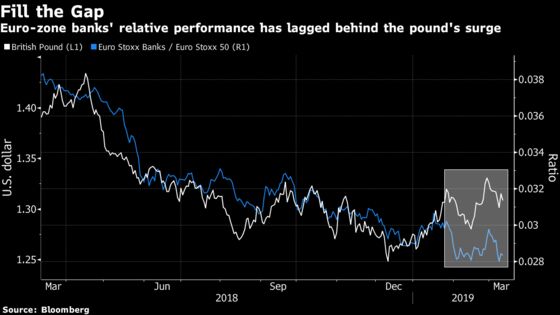 One last interesting fact: Despite being overweight eurozone vs U.K. stocks, Barclays strategists' top picks published this week include 10 U.K. stocks out of 19. And they are not all domestically focused. It's a sign some specialists may see value in the beaten-down U.K. equity market. They cite Glencore, Tesco, Royal Dutch Shell, Tullow Oil, Lloyds, Standard Life Aberdeen, Prudential, NMC Health, Ferguson and Avast.
Ahead of the open today, the Euro Stoxx 50 futures are trading down 0.5%.
Watch trade-sensitive sectors as lackluster machinery data from Japan and a below-expectations consumer confidence reading weighed on Asian stocks. U.S. Trade Representative Robert Lighthizer already had soured the mood on Tuesday afternoon by saying Washington must keep the option of raising tariffs on Chinese imports as a bargaining tool in trade talks.
Watch tobacco stocks, particularly those exposed to menthol, as the U.S. FDA taps Ned Sharpless, the director of the National Cancer Institute, to be temporary chief. Analysts highlighted the nomination was positive for biotech and negative for tobacco companies.
"Falling bond yields and EPS downgrades haven't impeded rising stock prices year-to-date. We think both need to inflect higher for the rally to carry on as P/E re-rating looks tired and sector leadership has turned defensive again," Barclays strategist Emmanuel Cau writes in note. "We expect activity to improve into 2Q, which should provide a floor to bond yields and EPS revisions."
Inditex Plans to Raise Dividend Payout as Profit Growth Slows
Adidas Sees Slowing 2019 Sales, 2018 Dividend Beats Estimates
EON Full-Year at Higher End of Guidance, Seen Flat in 2019
Deutsche Bank Faces Pushback to Potential Merger on Job Cuts
Innogy Full-Year at Lower End of Guidance Due to SSE, Low Winds
BAT Canada Gets Court Protection After Defeat in Smoking Case
Nestle Is Said to Pick Advent, KKR, EQT for Skin-Health Unit Bid
Tobacco Stocks Lose World-Beating Status as Pension Funds Exit
UniCredit Sells EU1B AT1 Notes to Strengthen Regulatory Capital
Schmolz & Bickenbach 2018 Revenue Matches Estimates
EFG Buys Shaw & Partners Stake for A$61M; Sets 2022 Targets
Rothschild Family Takes Its Bank Private
Clas Ohlson Cuts Full Year Operating Margin Forecast
Melker Schorling Has Sold Shares in Hexagon, Hexpol, AAK
ForFarmers Full Year Adjusted Ebitda 2.3% Below Estimates
Superdry Co-Founder Dunkerton to Make Share Pledge: Sky
Salvatore Ferragamo Earnings Miss Estimates on EU9m Tax Payment
NOTES FROM THE SELL SIDE:
Liberum initiates On The Beach at buy with a 560p PT, saying its long-term potential is undervalued by the market. Broker says that co.'s proprietary tech is disrupting the traditional holiday industry and adding market share, with strong Ebitda and EPS growth.
TECHNICAL OUTLOOK for Stoxx 600 index:
Resistance at 379.9 (23.6% Fibo); 383 (trend line)
Support at 369.4 (200-DMA); 365.1 (38.2% Fibo)
RSI: 60.8
TECHNICAL OUTLOOK for Euro Stoxx 50 index:
Resistance at 3,315 (38.2% Fibo); 3,359 (trend line)
Support at 3,283 (200-DMA); 3,262 (March low)
RSI: 63
MAIN RESEARCH AND RATING CHANGES:
UPGRADES:
Banco Santander upgraded to outperform at RBC; PT 5.70 Euros
Dialog Semi upgraded to buy at AlphaValue
Evonik upgraded to hold at HSBC; PT 27.50 Euros
Freenet upgraded to buy at Jefferies; PT 23.80 Euros
IAG upgraded to outperform at RBC; Price Target 6.50 Pounds
Lonmin upgraded to hold at Renaissance Capital
SBM Offshore upgraded to buy at Oddo BHF; PT 22 Euros
Umicore upgraded to buy at ING; PT 47 Euros
Zalando upgraded to buy at Quirin Privatbank AG; PT 40 Euros
Axel Springer downgraded to hold at Nord/LB; PT 46 Euros
Credit Suisse downgraded to neutral at JPMorgan; PT 14 Francs
Endesa downgraded to neutral at JPMorgan; PT Set to 23 Euros
Geberit downgraded to hold at DZ Bank; PT 405 Francs
Schindler downgraded to equal-weight at Barclays; PT 225 Francs
Bechtle rated new underperform at MainFirst; PT 62.40 Euros
Cancom rated new outperform at MainFirst; PT 43.90 Euros
On The Beach rated new buy at Liberum; PT 5.60 Pounds
MSCI Asia Pacific up 1.1%, Nikkei 225 down 1%
S&P 500 up 0.3%, Dow down 0.4%, Nasdaq up 0.4%
Euro down 0.03% at $1.1285
Dollar Index up 0.07% at 97
Yen up 0.05% at 111.3
Brent up 0.3% at $66.9/bbl, WTI up 0.5% to $57.2/bbl
LME 3m Copper down 0.3% at $6451/MT
Gold spot up 0.2% at $1304.6/oz
US 10Yr yield up 1bps at 2.61%
MAIN MACRO DATA (all times CET):
9am: (SP) Feb. CPI Core MoM, prior -1.5%
9am: (SP) Feb. CPI Core YoY, est. 0.8%, prior 0.8%
9am: (SP) Feb. CPI MoM, est. 0.2%, prior 0.2%
9am: (SP) Feb. CPI YoY, est. 1.1%, prior 1.1%
9am: (SP) Feb. CPI EU Harmonised MoM, est. 0.2%, prior 0.2%
9am: (SP) Feb. CPI EU Harmonised YoY, est. 1.1%, prior 1.1%
10am: (IT) 4Q Unemployment Rate Quarterly, est. 10.5%, prior 10.2%
11am: (EC) Jan. Industrial Production SA MoM, est. 1.0%, prior -0.9%
11am: (EC) Jan. Industrial Production WDA YoY, est. -2.1%, prior -4.2%