European Shares Gain as Investors Wait for Fed; UniCredit Falls
(Bloomberg) -- European shares climbed at the open, following strong gains in the U.S., as earnings season reached its peak and investors awaited for the Federal Reserve meeting later in the day.
The Stoxx 600 Index rose 0.4 percent, led by the travel & leisure sector. UniCredit SpA dropped 2 percent after Italy's largest lender cut its revenue and capital forecasts, while Siemens AG rose 0.5 percent as Europe's biggest engineering firm raised its dividend and announced plans to buy back 3 billion euros of shares. About 50 members of the Stoxx Europe 600 Index are releasing quarterly numbers Thursday.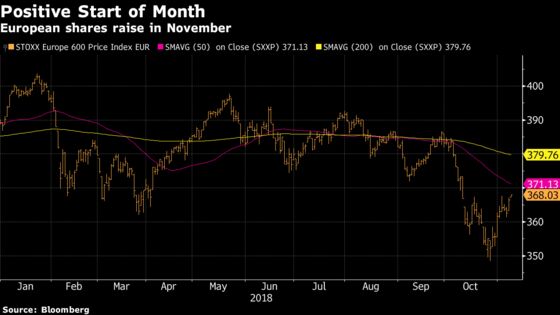 A recent stock rally is building as investors welcome the results of the U.S. midterm elections. The Fed's policy makers are expected to leave the rates unchanged at their meeting today in Washington.
"The elections results have a limited impact but eliminate uncertainties and the expectation is that we are indeed at the end of the cycle but it could go on for few more quarters," said Diego Fernandez, chief investment officer at A&G Banca Privada in Madrid. "Later we will be watching for any change on the Fed's tone."