European Shares Flat After U.S. and  China Agreement
(Bloomberg) -- European shares opened flat, after Monday's gain, as U.S. and China trade-war talk continues and Italy appears to open the door to tweak its deficit.
The Stoxx 600 Europe Index was little changed, led by gains in utilities shares, while basic resources stocks dropped the most. Thomas Cook Group Plc slumped 29 percent after it suspended its dividend. The Italian benchmark FTSE/MIB bounced between gains and losses after newspaper Messaggero reported the country's deficit will probably be reduced to 2.2 percent from 2.4 percent.
All eyes this week are on the meeting between Presidents Xi Jinping and Donald Trump in Buenos Aires at the end of the week. Trump said in an interview Monday he will likely move forward with his plans to impose new tariffs on Chinese goods in addition to duties on $200 billion of such imports in January. Trump and Xi agreed to reach a mutually beneficial deal over trade in a Nov. 1 phone call, China foreign ministry spokesman Geng Shuang said at a briefing.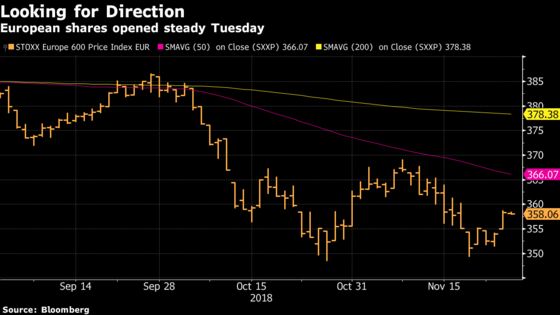 "If we add a U.S. dollar that has moved away from its top, emerging-market currencies and equities that are recovering, and the more dovish comments of regional Fed presidents, the stock market recovery we expect to see at the end of the year and into the new year is still likely to come," Ulrich Urbahn, head of multi-asset strategy and research at Berenberg in Frankfurt, said by email. "We stay optimistic. Yes, these are the main risks and they are still there -- in particular the Brexit risk. But risks are always there."