European Shares Fall as U.S., North Korea Talks End Without Deal
(Bloomberg) -- European shares opened lower following Asian markets after the summit between U.S. President Donald Trump U.S. and his North Korean counterpart ended without a deal.
The Stoxx Europe 600 Index dropped 0.5 percent, led down by basic resources and technology shares. Anheuser-Busch InBev NV jumped 4 percent after the world's largest brewer reported stronger-than-expected earnings growth on higher demand. IAG SA, the parent of British Airways, rose 3 percent as adjusted operating profit beat analysts estimates.
Trump's second summit with Kim Jong Un ended without an agreement between the two leaders, with U.S. president saying he walked away from the table and that sanctions were the sticking point. Future talks on North Korea's nuclear program will now be in question.
"The lack of agreement with North Korea erases a catalyst that would have been positive for the markets and weaker Chinese CPI data will also weight on investor sentiment today," Jaime Espejo, equities fund manager at Imantia Capital in Madrid, said by phone. "European shares are back to October levels so some profit taking could be seen. We have taken a more cautious position on our portfolios."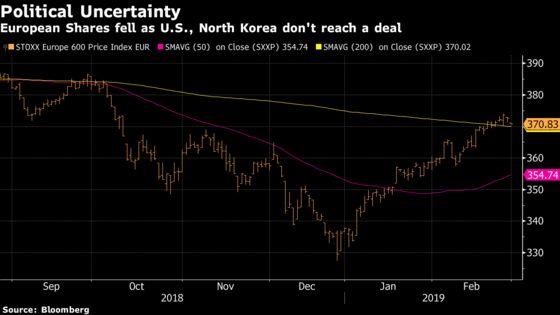 China's manufacturing purchasing managers index dropped to 49.2 in February, below the mark that signifies a contraction.