European Shares Drop With U.S. Overnight Pressuring Tech Shares
(Bloomberg) -- European shares fell on Friday, dragged down by losses in basic resources and technology sectors.
The Stoxx Europe 600 Index fell 0.9 percent, with the technology sector pressured by developments overnight in the U.S., where so-called FAANG firms Amazon and Google-owner Alphabet Inc. missed expectations and chipmaker Intel Corp. saw shares pare gains after trade war comments.
European stocks were "expected to open down after Amazon and Alphabet missed Wall Street expectations and consequently falling in the aftermarket dragging down U.S. futures," said Martin Guri, head of Nordic strategy at Kepler Cheuvreux. "U.S. overnight trading, before Amazon and Alphabet reported after close, was clearly in a risk-on mood when investors snapped up oversold stocks."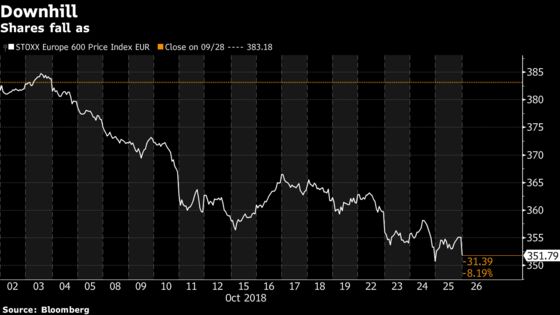 "Talking point today is mainly the ongoing reporting season," Guri said. "On the macro front the U.S. third-quarter GDP numbers later today is also of interest."