European Shares Bounce With Italy, Aston Martin Dips After IPO
(Bloomberg) -- European shares opened higher, bouncing back from losses in the previous session as Italian shares rallied on report of budget concessions from the government.
The Stoxx Europe 600 Index rose 0.3%, with banks and telecoms leading the gains. Italy's FTSE MIB Index rose 1.2%. The populist government will offer some concessions to fend off European Union pressure about its public finances, Corriere della Sera newspaper reported.
Shares in luxury carmaker Aston Martin slipped below its IPO price on the stock's first day of trading, down 4.6 percent.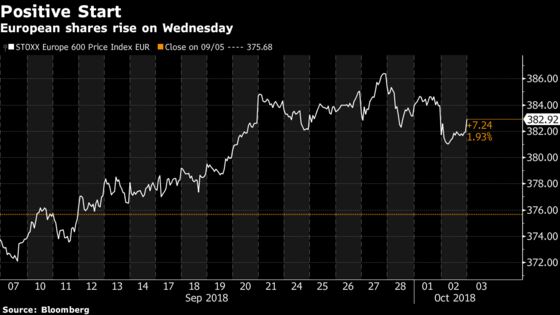 "One has to keep an eye on Italy, because it has the potential of becoming really horrible," said Mattias Sundling, senior strategist at Danske Markets Sweden, said by phone. "However, I don't think that will happen, because there are a lot of negotiations back and forth between the EU Commission and the government."