European Stocks Rise on U.S. Stimulus as Brexit Talks Rumble On
(Bloomberg) -- European shares advanced after falling the most in two months on Monday, as U.S. lawmakers cleared a new stimulus package and as Brexit negotiations continued.
The Stoxx Europe 600 Index rose 1.2% by the close in London, jumping the most since Nov. 16. Technology, banking and utilities shares were among the biggest advancers. The FTSE 100 underperformed other major European indexes and was up just 0.6%.
As Brexit trade talks continue, stocks pared gains after the European Union rebuffed British Prime Minister Boris Johnson's latest concessions on fishing rights. Meanwhile, Johnson is trying to re-open trade routes to France. The U.K. remains effectively isolated because dozens of countries have restricted flights after a new, apparently more transmissible coronavirus strain was found to be circulating in Britain.
"There's only 10 days to Brexit deadline and there's still nothing clear, with a number of uncertainties remaining," said Alfonso Benito, chief investment officer at Spanish asset manager Dunas Capital. "We expect news on Covid and Brexit to remain on focus in the last trading sessions of the year."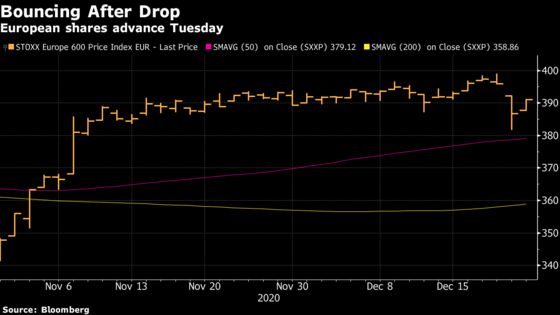 At the same time, investors were encouraged by the fact that in the U.S., Congress passed a giant year-end spending bill that includes $900 billion in Covid-19 relief aid, $1.4 trillion in regular government funding and tax breaks for businesses.