European Stocks Surge Most in a Month on U.S. Stimulus, Recovery
(Bloomberg) -- European stocks jumped the most in a month after news of U.S. stimulus and rising retail sales offered fresh impetus to a rally that had flagged in recent sessions.
The Stoxx Europe 600 Index gained 2.9%, with all 19 industry groups in the green. The gauge pared gains of as much as 3.8% after Texas saw hospitalizations surge and Beijing shut its schools on concern about new infections.
Cyclical sectors, or those most sensitive to economic growth, led the advance, with banks, construction and telecom stocks rising. Italy's FTSE MIB gauge jumped 3.5%, Spain's Ibex added 3.3% and Germany's DAX was up 3.4%.
Europe's benchmark is jumping following news that the U.S. government is considering $1 trillion in infrastructure spending and after the Federal Reserve detailed plans to buy individual corporate bonds. U.S. retail sales surged in May by the most on record and double forecasts, adding optimism to the dip-buyers.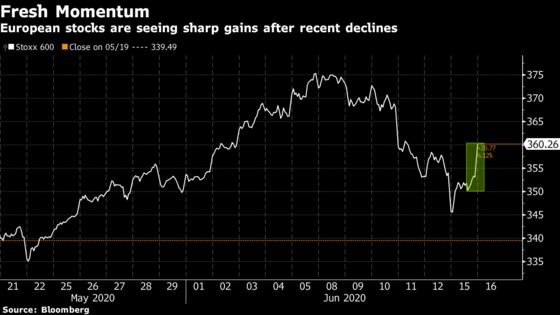 "The Fed proved once again that it has unlimited resources to prevent a market sell-off and to keep asset prices artificially bloated for the sake of the economy," said Ipek Ozkardeskaya, a senior analyst at Swissquote Bank. "It feels almost like there is nothing to fear for investors; most of the default risk is now shouldered by the Fed. So yes, there is a clear message sent to the market here, go out and buy all you can afford."
This stimulus is overshadowing concern of a flare-up in the coronavirus pandemic and worsening relations both on the Korean peninsula and on the Indo-Chinese border.
The Stoxx 600 last week had its worst plunge since the March turmoil on concerns the economic recovery is slower than expected and as some U.S. states saw rising infections.
For a long time, global investors stayed away from European stocks, spooked by political instability and the overall lack of real economic and earnings growth. But over the past month, they've been using their dry powder to buy euro-area shares among other things, according to a survey from Bank of America Corp. released on Tuesday. Allocation to the region's equities surged 24 percentage points to a net 7% overweight, the largest increase in net weighting of any region this month, BofA said.
Unprecedented fiscal and monetary stimulus, coupled with global asset managers' low position in European shares over the past years, can serve as a cushion against stronger losses.
Among individual movers, equipment rental firm Ashtead Group Plc rose as much as 19% today after reporting fourth-quarter results that Jefferies said were slightly ahead of guidance.