European Equities End Strong August With Decline
European shares closed lower on Monday in the last session of the month, while trading volume was thin as U.K. markets were closed for a public holiday.
The Stoxx Europe 600 Index lost 0.6%, after rising as much as 0.7% earlier in the session. For the month it remains a decent performance of a rise of 2.9%, the biggest August gain since the financial crisis in 2009, helped by positive news on the vaccine front and as governments in the region ruled out new lockdowns.
Stocks had climbed in early trading as sentiment was boosted by figures showing Chinese economic activity rebounding further this month, with a gauge of the services industry at the strongest level since early 2018. But the mood started to sour later as U.S. markets only hovered below their all-time highs and data showed consumer prices are sliding in Europe, with Germany, Italy and Spain all reporting negative inflation rates in August.
"The overall picture of permanently low inflation in Germany and the euro area will not change for the time being," said Joerg Zeuner, chief economist at Union Investment, in Frankfurt. "The effects of an only gradual decline in unemployment and the general uncertainty that dampens consumption and investment activity predominate."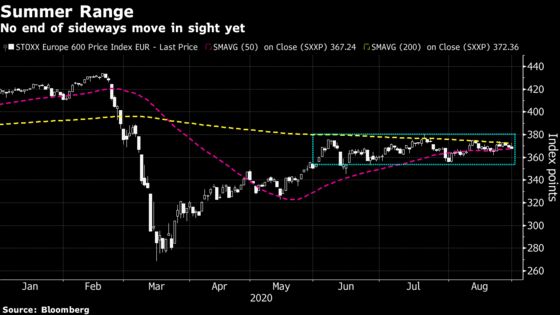 Europe's utility sector featured among the top gainers on Monday, with shares in French water management company Suez SA jumping as much as 20% after Veolia Environnement SA offered 2.9 billion euros ($3.5 billion) for a 29.9% stake in the company.