European Stocks Rise Most in Three Weeks Boosted by Euro's Slide
(Bloomberg) -- European stocks surged the most in three weeks as the euro's retreat from a two-year high brought a reprieve to exporters after the currency's rally had limited the equity market's gains.
The Stoxx 600 Index rose 1.7% by the close, snapping a four-day losing streak and crossing above a key resistance level representing its 200-day moving average. Health care and chemicals sectors were among the biggest advancers. The euro weakened as much as 0.8% against the greenback. The pound also fell on the day, lifting the FTSE 100 Index by 1.4%.
The European currency's 11% rally since its March low has weighed on the Stoxx 600's performance recently, making it lag against the S&P 500 as a stronger euro curbed local-currency revenue for major European exporters. While European stocks have gained around 30% since hitting a March low as investors continue to bet on further stimulus measures, they remain about 14% below record highs.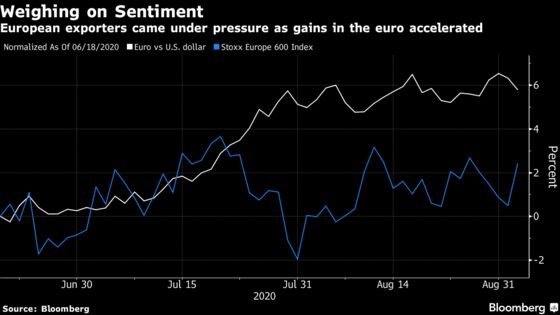 Investors were also looking out for positive reports on Covid-19 vaccine developments. A vaccine could be available earlier than expected if clinical trials produce overwhelmingly positive results, U.S. infectious disease expert Anthony Fauci said in an interview with Kaiser Health News.
"Low global real interest rates and the near prospect of successful Covid-19 vaccines and therapies suggest that equity prices and prices of real assets (properties, gold) will continue to march higher as we head toward the U.S. election," Stephen Jen, chief executive officer of Eurizon Slj Asset Management, said by email. "I still believe equities have been the smartest and therefore the most trustworthy asset class in this cycle."
Roche Holding AG rallied 3.2% after the company said it plans to launch a rapid Covid-19 test in late September.
Banco Bilbao Vizcaya Argentaria SA and Societe Generale SA underperformed, falling 3.3% and 2.3% respectively, after losing their spot in a reshuffle of the Euro Stoxx 50 Index.